Since Facebook integrated Instagram into its business solutions, advertising on both platforms is easier. Campaigns published through your Facebook Ads Manager can directly be pushed to Instagram feeds at the same time.
Important: You have two ways of displaying your Instagram advertising data on your dashboards.
The first way (and easiest) is through the Facebook Ads integration if you only publish campaigns on Instagram through your Facebook Ads Manager.
The other option is to integrate Instagram Ads directly if you tend to promote organic posts on Instagram directly.
Integrate Instagram Ads into DashThis
Permissions: In order to successfully connect Instagram Ads to DashThis, you need to have employee access. Should you need more information about users and permissions, please go to Meta's help center.
Part 1. Connect Instagram Ads:

Go to DashThis and click on the integrations page
Scroll down the list of available integrations and click on ADD + beside Instagram Ads

Sign in to your Facebook account
Important: When connecting Instagram Ads to DashThis, please know that it is normal that you connect with your personal Facebook account.

Confirm your Facebook account by clicking on Continue
Part 2. Add your data sources:

Now that DashThis has access to your account, you still need to add your data source(s) manually.
In the integration manager, find Instagram Ads in the list of connected integrations to the right. Click on the pencil icon next to your account name.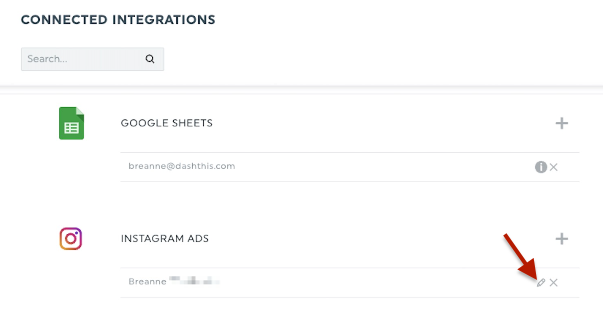 A pop-up will appear to the right:

Give your source a name and add your Instagram Ads account id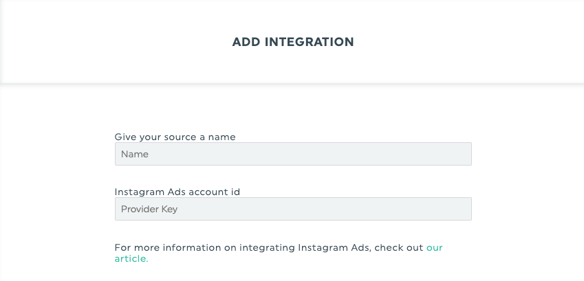 Give your source a name: It can be anything you want. This name will be how your client will be designated in our tool.

Instagram Ads account id: You need to provide your Facebook Ads Account ID since both platforms are linked together. To find this ID, go in your Facebook Ads Manager and look on the top left corner where you can switch accounts.





Save your information and add the account.
Now you can create reports with Instagram Ads 🙌 Not sure which data to import? No problem! We created a periodic dashboard template to help you. Simply go to your Dashboard manager and click on Create Dashboard, search through the periodic templates, and find Instagram Ads report.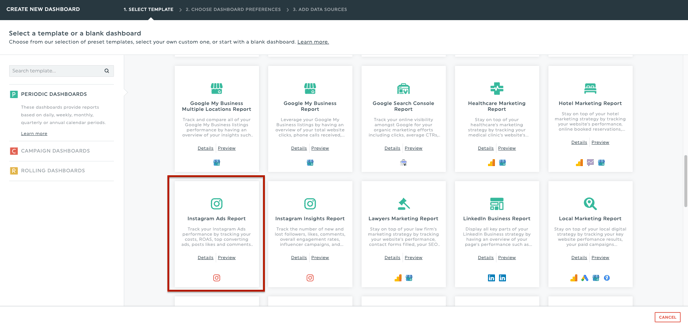 Should you need any assistance with Instagram Ads, please reach out to our Support Team 🤘
---

What's next:

Instagram Ads metrics and dimensions
Instagram Ads notes/limitations
How to see results for organic vs promoted/boosted Instagram posts?