Since Facebook integrated Instagram to its business solutions, advertising on both platforms alongside is easier. Campaigns published through your Facebook Ads Manager can directly be pushed to Instagram feeds at the same time.

You have two ways of displaying your Instagram advertising data in your dashboards. The easiest way is through the Facebook Ads integration if you only publish campaigns on Instagram through your Facebook Ads Manager. The other option is to integration Instagram Ads directly if you tend to also promote organic posts on Instagram directly.
1- Use Facebook Ads integration
You first need to connect your Facebook Ads account in DashThis if it isn't the case yet. Please refer to this article to know how to do this.
Once done, you can create a dashboard using your Facebook Ads data source(s).
In order to show your Instagram Ads data in your dashboard, you simply need to create a Custom Widget and apply a filter on the platform. Open the drop-down menu and select "Instagram" to include only data coming from Instagram.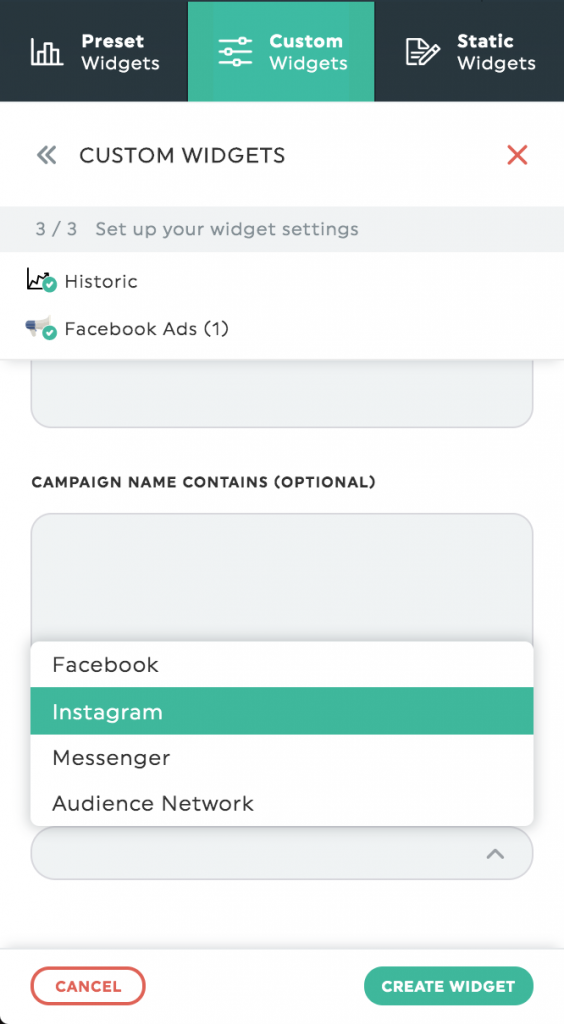 2 – Connect Instagram Ads
a. Add the integration
Connecting Instagram Ads to DashThis requires 2 quick steps.
Step 1: In the Integration Manager, choose Instagram Ads and click on Add.
Step 2: You'll be redirected to Facebook (this is normal); sign into your account as usual.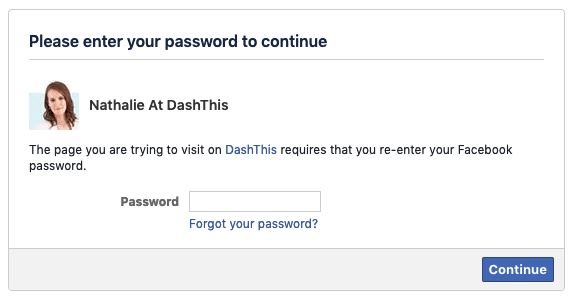 Step 3: confirm the DashThis-Instagram Ads integration setup
You'll be asked to confirm that the process is complete.
Facebook also gives you the ability to choose what to allow when setting up the integration. If you choose to do so, check the boxes next to each Instagram account that you'd like to include in your DashThis account. It's important that you select every account you're likely to pull data from; DashThis won't be able to access data from any account for which you don't check this box.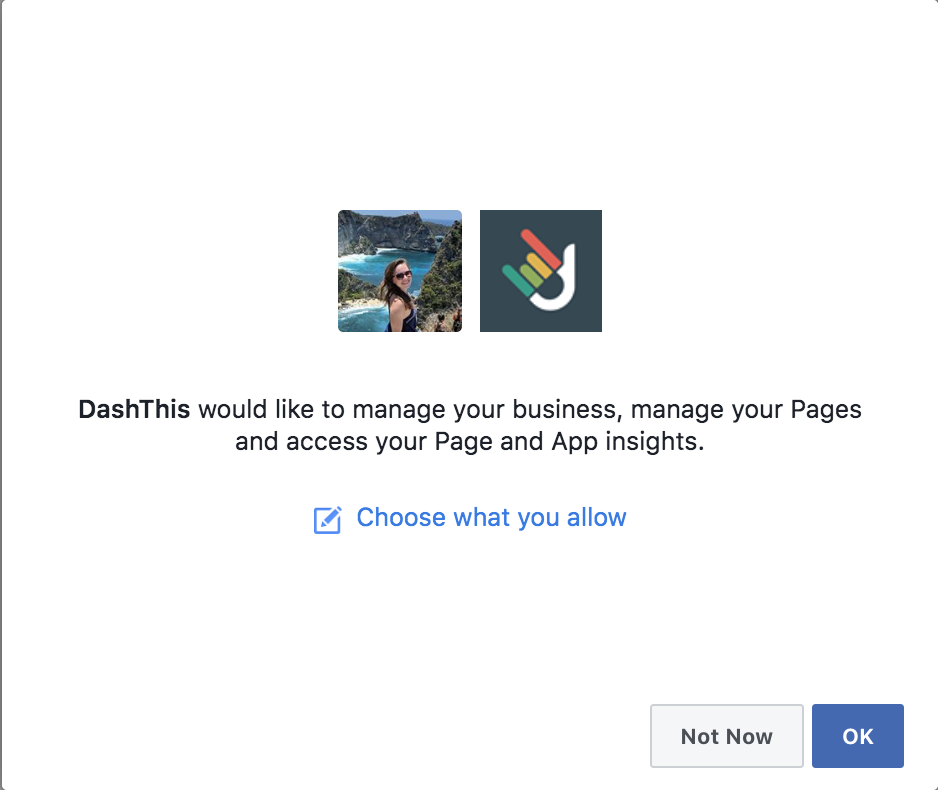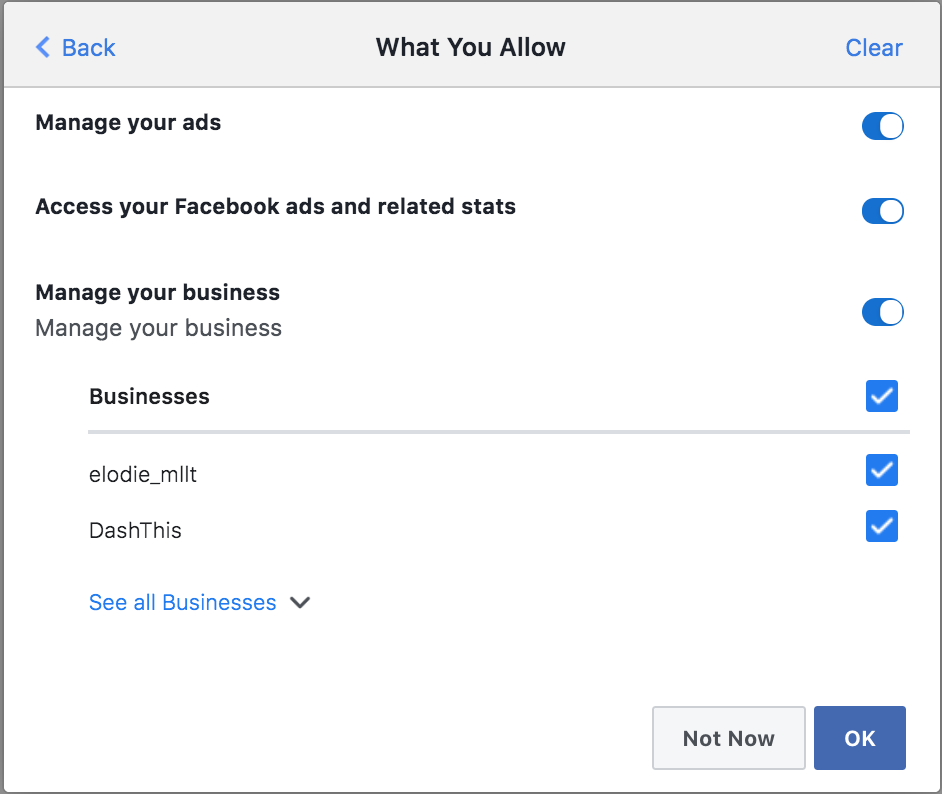 Once satisfied, click on "OK". You'll then be brought back to your DashThis account, and you're ready to create Instagram Ads dashboards!
b. Add data sources
Now that DashThis has access to your account, you still need to add your data source(s) manually.
Under the section Integration in use (on the right side of your screen) in the Integration manager, find Instagram Ads.
Click on the pencil icon located next to your account.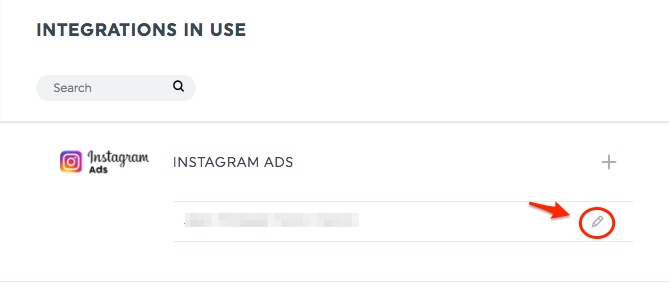 You land on a page asking for your client's information:
Give your source a name: It can be anything you want. This name will be how your client will be designated in our tool.

Facebook Ads Account ID: You need to provide your Facebook Ads Account ID since both platforms are linked together. To find this ID, go in your Facebook Ads Manager and look on the top left corner where you can switch accounts.

Save your information and add the account.
You're done! Now you can create a dashboard containing your Instagram Ads data.
3 – KPIs, metrics, and dimensions
The following standard KPIs are available from the preset widgets drop-down menu:
Clicks
Impressions
Click-Through-Rate (CTR)
Cost Per Click (CPC)
Cost Per Thousand Impressions (CPM)
Cost
Reach
Top Campaigns (Clicks)
The available metrics and dimensions are:
Metrics:
Actions
Action Conversion Value
Ad Cost
Ad Impressions
All Clicks
All Cost Per Click (CPC)
Click-Through-Rate (All Clicks)
Click-Through-Rate (Unique Clicks)
Click-Through-Rate (Inline Link Clicks)
Cost Per 1000 People Reached
Cost Per Action
Cost Per Inline Link Click
Cost Per Thousand Impressions (CPM)
Cost Per Unique Action
Frequency
Inline Link Clicks
Reach
Return on Ad Spend (ROAS)
Return on Investment (ROI)
Unique Actions
Unique Clicks
Unique Cost Per Click (CPC)
Unique Click-Through-Rate
Unique Impressions
Dimensions:
Action Type (for Action-related metrics)
Ad ID
Ad Name
Ad Set
Campaign
4 – Limitations
When using the Instagram Ads' integration, your widget's data is limited to 5,000 results.
This means that when extending your widget, you can see up to 5,000 rows. And when reordering your widget's results, the sorting is applied to those 5,000 results only.
To avoid this limitation, please use the Facebook Ads' integration.