SEMrush is an amazing digital marketing tool, useful for tracking plenty of metrics within the realms of SEO, PPC, and more.
Note: To access their API, you need to have a Business Plan with SEMrush. In addition, SEMrush requires you to have API units available in order to call their API; you will be charged API units anytime DashThis fetches your SEMrush data. Even if you don't have access to the SEMrush API at the moment, you can still incorporate SEMrush data into your dashboards using our CSV file manager.

Integrate SEMrush to DashThis


Permissions: To successfully connect SEMrush to DashThis, you should be the owner or admin of the account. Should you need more information about users and permissions, please go to SEMrush's help center.
How to connect SEMrush to Dashthis: There are four parts to complete in order to connect DashThis to SEMrush API.


Part 1. Get your API Key



Login to your SEMrush account.
Click on your account settings (top right-hand corner)
Click on Subscription info and go to the API units tab.


This page will also tell you how many of your API units are remaining on your account.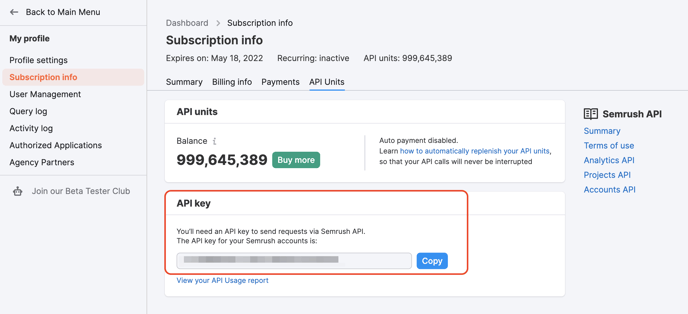 Copy your API key, you will need to use it in DashThis.


Part. 2 Add the integration


Step 1 - Go to DashThis and click on the integrations page
Step 2 - Scroll down the list of available integrations and click on ADD + beside SEMrush


Step 3 - Fill in the credential fields:
Enter your Account Profile ID (top right-hand corner) = My Profile (ID: XXXXXXX)

Enter your API Key

Click on ADD.


Part 3. Share your Projects
The last step needed to make sure the integration will work correctly is to share your SEMrush projects with the users who will create or edit dashboards in your DashThis account. If you are the owner of the account, this includes sharing projects with yourself as well. You can follow SEMrush guidelines on how to share your projects in this article.


If you are using multiple accounts, we recommend you add all the different API keys corresponding to those accounts. Even if a project is shared from one SEMrush account to another, it will only show up in DashThis if you connected the account it was created in.
Part 4. Configure Position Tracking

Lastly, in order to see your SEMrush project data in DashThis, you need to enable Position Tracking for the related project. You can do so by going into this section of your SEMrush account, and clicking on "set up" in the "Position Tracking" column. For more on configuring position tracking, please visit SEMrush 's help center.

Now you can create reports with SEMrush 🙌 Not sure which data to import? No problem! We created a periodic dashboard template to help you. Simply go to your Dashboard manager and click on Create Dashboard, search through the periodic templates, and find SEMrush Dashboard.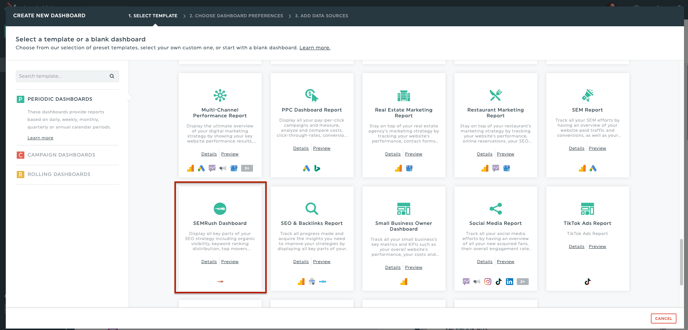 Should you need any assistance with SEMrush, please reach out to our Support Team 🤘
---

What's next:

SEMrush metrics and dimensions