SEMrush is an amazing digital marketing tool, useful for tracking plenty of metrics within the realms of SEO, PPC, and more.

Thanks to its integration in DashThis, you can incorporate your SEMrush data into your dashboards easily thanks to our PPC reporting tool!
Note: In order to have access to their API, you need to have a Business Plan with SEMrush. In addition, SEMrush requires you to have API units available in order to call their API; you will be charged API units anytime DashThis fetches your SEMrush data. Even if you don't have access to the SEMrush API at the moment, you can still incorporate SEMrush data to your dashboards using our CSV file manager – if you need help with it, let us know!
1 – Connect your account
a. Get your API Key
In order to connect your SEMrush account to DashThis, you first need to get your API Key. This will be found directly in your SEMrush account. Here's how to proceed.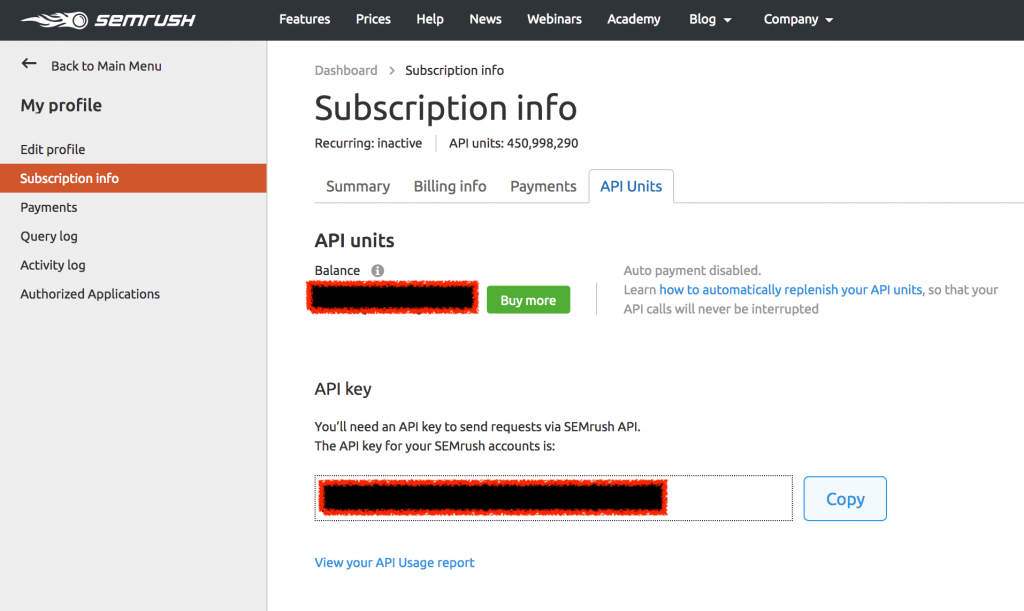 Now you can connect SEMrush into your DashThis account!
b. Add the integration
In the Integration Manager of DashThis, choose the integration SEMrush, and click on Add.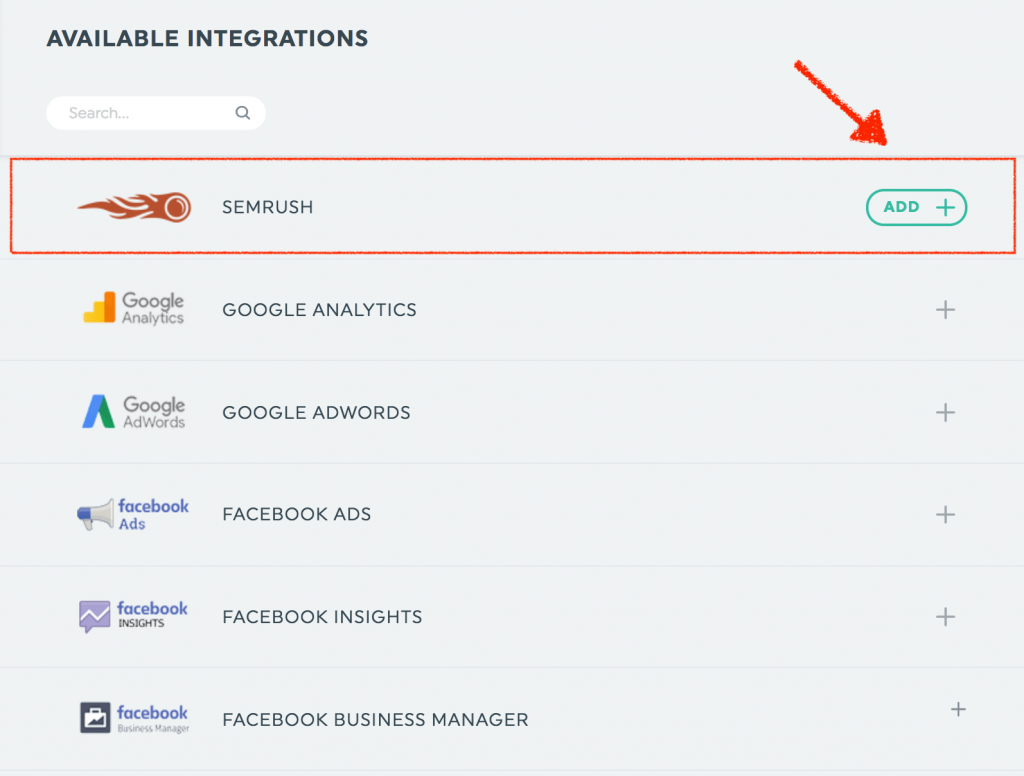 A window containing 2 fields appears on the right-hand side of the screen.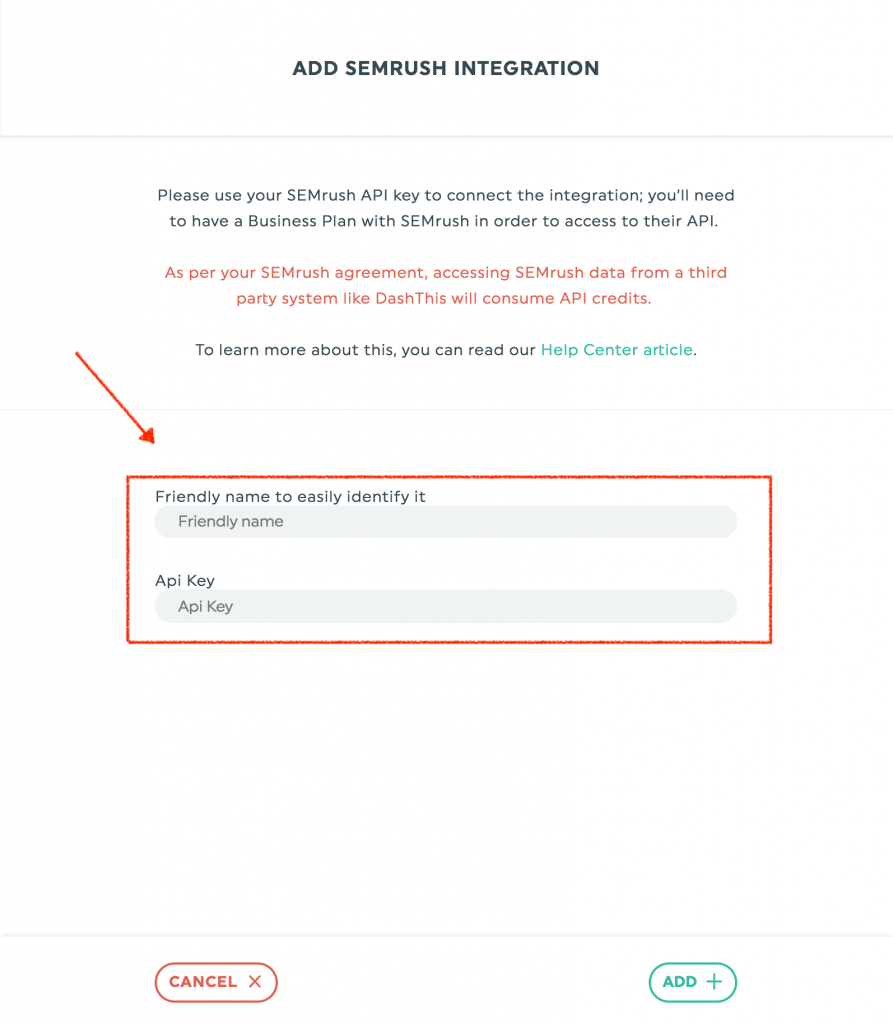 In the Friendly name box, write the name you want to give to your source. This is how your source will be called in our system. Enter the API key you got from SEMrush in the other box.
Click on Add.
SEMrush is now connected to your DashThis account! You can now create a dashboard that includes the SEMrush integration.
c. Share your projects
The last step needed to make sure the integration will work correctly is to share your SEMrush projects with the users who will create or edit dashboards in your DashThis account. You can follow SEMrush guidelines on how to share your projects in this article.
Also note that if you are using multiple accounts, we recommend you to add all the different API keys corresponding to those accounts. In fact, even if a project is shared from one SEMrush account to another, it will only show up in DashThis if you connected the account it was created in.
You are now ready to create a dashboard that includes the SEMrush integration!
d. Set up Position Tracking
In order to see your SEMrush projects data in DashThis, you need to enable the Position Tracking for the related project.
You can do so by going into this section of your SEMrush account, and clicking on "set up" in the "Position Tracking" column.
2 – KPIs, metrics, and dimensions
The following KPIs (along with their API unit consumption rates) are available from the Preset Widgets drop-down menu:
# of Organic Keywords in Top 10 (< 100 units)
# of Organic Keywords in Top 100 (< 100 units)
# of Organic Keywords in Top 20 (< 100 units)
# of Organic Keywords in Top 3 (< 100 units)
# of Organic Keywords Tracked (< 100 units)
AdWords Visibility (1 200 units)
Organic Positions in the Google Top 10 (20 000 units)
Organic Positions in the Google Top 20 (20 000 units)
Organic Positions in the Google Top 3 (14 700 units)
Organic Visibility (1 300 units)
Top Positions Changes (10 000 units)
Note: A single keyword query will also cost 100 units. Please note that the data available with the SEMrush integration is from the Position Tracking tool only.
These are the available metrics and dimensions:
Metrics:
AdWords CPC
AdWords Visibility
Number of AdWords Keywords
Number of Organic Keywords
Organic Position
Organic Visibility
Organic Volume
Position Change
Note: Since the "Position Change" metric shows, by definition, the fluctuations of "Organic Position", fluctuations will not be shown in either of these metrics; in order to see "Organic Position" fluctuations, please simply use the "Position Change" metric instead. In addition, totals are only available for the "Number of AdWords Keywords" and "Number of Organic Keywords" metrics.
Dimensions:
Domain (incl. competitors')
Keyword
Landing Page
Filters:
Keywords
Landing Pages
Tag
Top Positions
Volume
3 – API Units Limitations
SEMrush's API is a paying API which is based on the number of API units that is consumed for an account. The consumption of API units will occur:

when you create a new dashboard with the SEMRush integration;

when you create or edit a SEMRush widget;

when you clone an existing dashboard with a SEMrush source;

when you open the current period of a dashboard (either in Edit or View mode) with SEMRush data. This will only be charged once a day though, and you can view a dashboard multiple times a day without additional costs*;

when you edit an existing dashboard's sources to add a SEMrush source.

*Past completed periods won't be affected when you consult them because the data is already up to date. DashThis has stopped to fetch new data for those periods.


In order to reduce the costs caused by the API units consumption, DashThis is limiting the requests made to the API to the first 100 results.

When reordering your widget's results, the sorting will be applied to those first 100 results.
4 – Notes
SEMrush's data in DashThis always includes the "Local Pack" results. Make sure to enable the "Local Pack" checkbox in your SEMrush account in order to rightly compare your data.

SEMrush's data in DashThis is set on "Local" volume by default.