LinkedIn is best known by professionals all over the globe as a tool to strengthen their professional network. LinkedIn's insights have rich analytics that focuses on your business's organic metrics over flexible time periods.

Integrate LinkedIn Pages into DashThis



First, please note only a business account can be connected to DashThis.
Permissions: In order to successfully connect LinkedIn Pages to DashThis, you need to have a Super Admin role.
If you do not have a Super Admin role, you will not be able to connect your account to DashThis. Should you request Super Admin access, please get in touch with someone in your organization who has access. Not sure who has access?


Go to the Page you manage (on the right of your home page)
Click on Admin tools (on the right)
In the drop-down list under settings, click on Manage Admins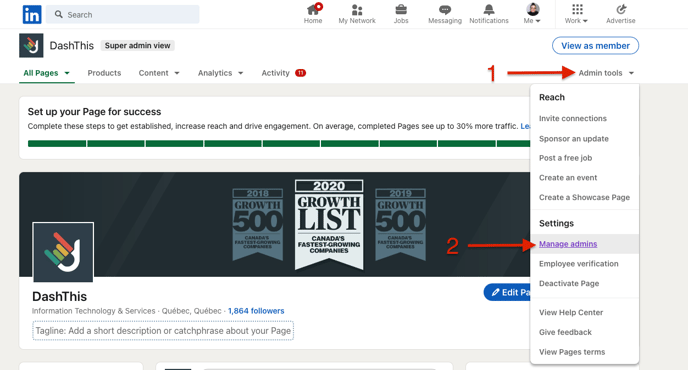 On this page, you will see a list of users and their access to the business page. If you need to change a user's permission to Super Admin or other, click on the pencil under actions, and set their role accordingly.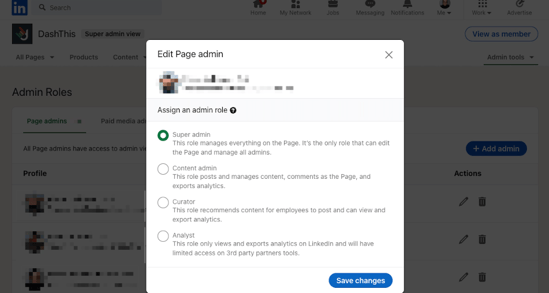 Should you require more information on LinkedIn Pages user roles and permissions, please visit LinkedIn's
help center
.
---


How to connect LinkedIn Pages to DashThis:

Step 1 - Go to DashThis and click on the integrations page

Step 2 - Scroll down the list of available integrations and click on ADD + beside LinkedIn Pages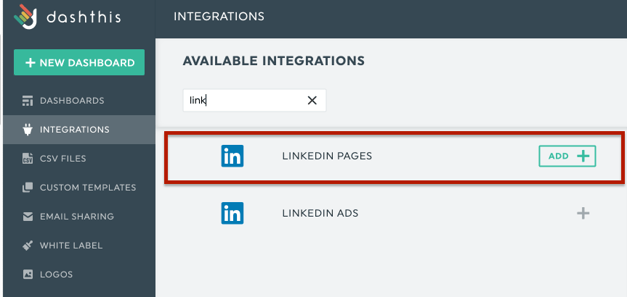 Step 3 - You're then redirected to LinkedIn Pages where you will sign in as usual and allow DashThis to access your LinkedIn Pages data (don't worry – we only use it to generate your dashboards)


Now you can create reports with LinkedIn Pages 🙌 Not sure which data to import? No problem! We created a periodic dashboard template to help you. Simply go to your Dashboard manager page and click on Create Dashboard, search through the periodic templates or write the integration's name, and find LinkedIn Business Report. This report also includes data for LinkedIn Ads.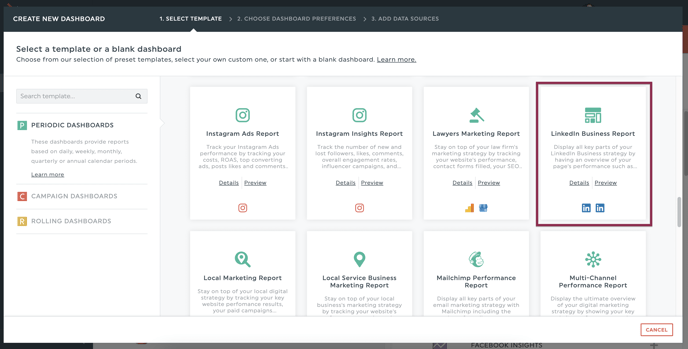 Should you need any assistance with LinkedIn Pages, please reach out to our

S

upport Team 🤘
---

What's next:

LinkedIn Pages metrics and dimensions
LinkedIn Pages notes/limitations