How to connect with LinkedIn Ads
Integrate Linkedin Ads into DashThis



Permissions: In order to successfully connect LinkedIn Ads to DashThis, you only need to have a Viewer role, however, please make sure that you have a Super Admin role on Linkedin Pages. Should you require more information on LinkedIn Ads user roles and permissions, please visit LinkedIn's help center.

Step 1 - Go to DashThis and click on the integrations page

Step 2 - Scroll down the list of available integrations and click on ADD + beside LinkedIn Ads




Now you can create reports with LinkedIn Ads 🙌 Not sure which data to import? No problem! We created a periodic dashboard template to help you. Simply go to your Dashboard manager page and click on Create Dashboard, search through the periodic templates or write the integration's name, and find LinkedIn Business Report. This report also includes data for LinkedIn Pages.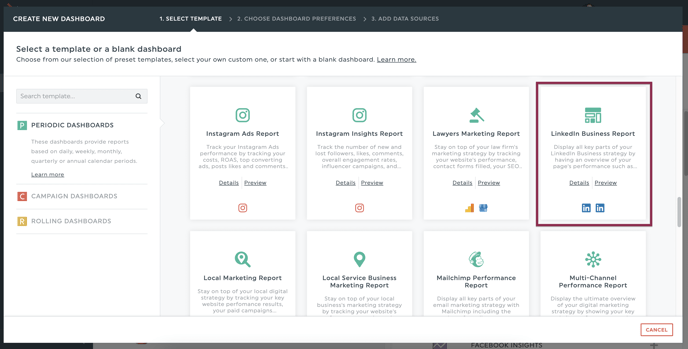 Should you need any assistance with LinkedIn Ads, please reach out to our Support Team 🤘


---

What's next:

LinkedIn Ads metrics and dimensions
Linkedin Ads notes/limitations