If you want to create a LinkedIn Ads performance dashboard, DashThis is the place to go! You can track the performance of your campaigns, and put data from LinkedIn Ads side by side with that of other platforms you might be using (such as Google Analytics or Facebook Ads). You can get a complete picture of your campaigns across different platforms, and therefore develop better strategies. Get the best out of your data with our PPC reporting tool!
1- Connect your account
a. Get ready
Make sure you're an account manager on the LinkedIn Advertising Accounts. If you're not, we won't be able to connect your data.
You also need to have a Super Admin access to the LinkedIn Page associated with the LinkedIn Ad account.


LinkedIn Ads documentation tells you how to add and remove administrators on the Company Page.
b. Add the integration to DashThis
Connecting DashThis to Linkedin Ads requires 2 clicks. Literally.
In the Integration Manager, choose LinkedIn Ads and click on Add.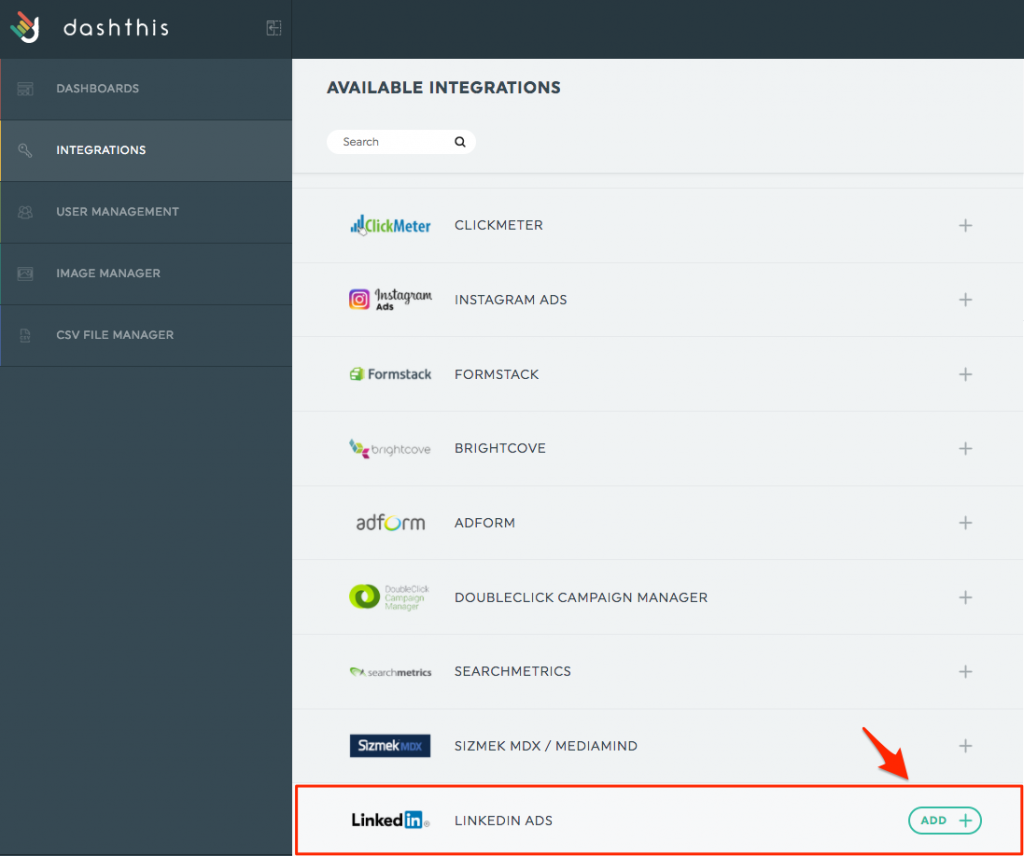 You're then redirected to LinkedIn. Allow DashThis to access your information and sign in as usual.
Your account now appears under the section Integrations in use in DashThis.
It's a success!
2- KPIs, metrics, and dimensions
Once in the Dashboard editor, you find the following KPIs in the Preset Widgets drop-down menu:
Conversions
Impressions
Clicks
Cost
Cost Per Click (CPC)
Conversion Rate
Cost per Conversion
Conversion Value
Return On Ad Spend (ROAS)
Likes
Comments
Shares
Follows
Performance by Ad
Performance by Campaign
Ad Trends
These are the available metrics and dimensions for your LinkedIn Ads reporting dashboard:
Metrics:
Conversions
Impressions
Clicks
Cost
CTR
Social Interactions
Total Engagements
Avg. Engagements
Cost Per Click (CPC)
CPM
Post-click conversions
View through conversions
Conversion rate
Cost per conversion
Conversion Value
ROAS
Likes
Comments
Shares
Follows
Other Clicks
Dimensions:
Ad Creative
Ad ID
Ad with image
Campaign
Campaign Type
Campaign Size
Industry*
Job title*
*These dimensions may take up to 12-24 hours to be up to date due to latency applied in LinkedIn Ads' API.
Our team created a preset report template in order to accelerate the creation of your dashboards. Here's what it looks like: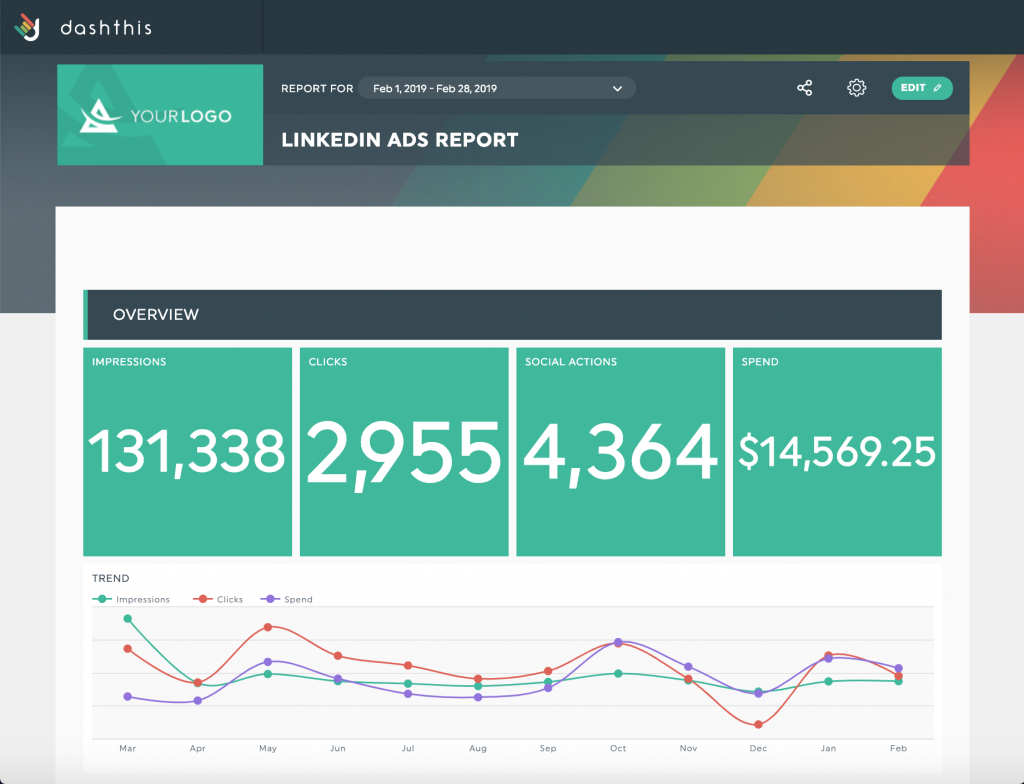 Follow this link to see the template in its entirety and interact with it. If this template does not fit your needs or tastes, you can customize it, and even start from scratch!
3- Data history
The data history available for LinkedIn Ads depends on the time range you choose for your periodic dashboard.
If you choose a daily or a weekly scope, only 6 months of historical data will be retrieved. If you set a monthly, quarterly, or annual period, the regular 13-month default data history applies.
Please note that this limitation only applies to the periodic template.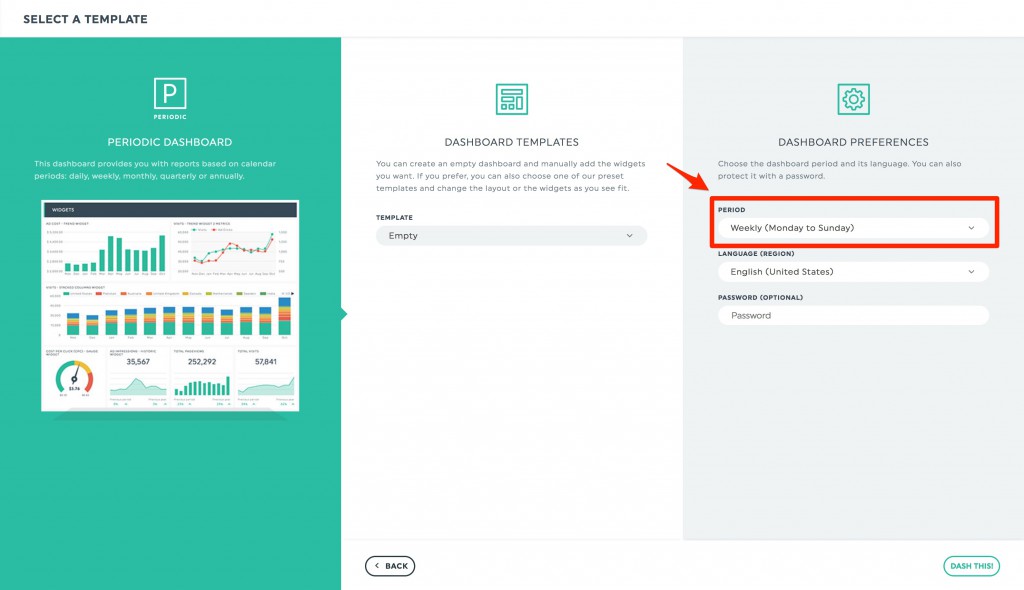 Our support team is always there for you if you have any questions!
You're still not a DashThis user? Try our tool for free!