Whether it is because you don't find the integration you're looking for in DashThis, or because you want to display your own proprietary data in your dashboards, you can add a custom data source to answer those needs.
There are 3 solutions to integrate a custom data source in your dashboards.
#1 Use the manually editable widgets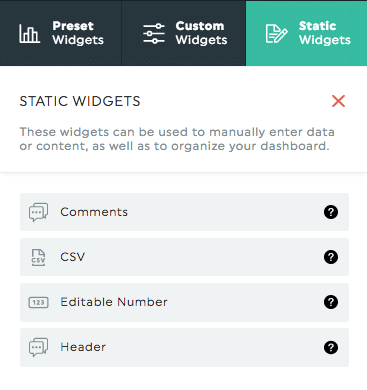 This one is the easier option. The Comment Box and the Editable Number allow you to manually enter the numbers or the information you want to show your clients without having to configure a data source.

#2 Use the CSV widget
The CSV widget allows you to upload a CSV file in your dashboard. This widget will read your file and convert it into a table format.
Simply create this widget and upload your file in order to display it in your dashboard.

#3 Configure a custom data source through a CSV file.
This option is the more automated one! CSV custom data source(s) allow you to import your proprietary data into DashThis and even send it automatically, as if it was coming directly from the original platform.
To learn more on how to set up a custom data source, read our article on CSV file.