Klaviyo is one of today's top digital marketing e-commerce email and SMS platforms. This valued service allows you to build visual campaigns while targeting specific segmented audiences to help you reach your store's online goals!
Integrate Klaviyo into DashThis
Permissions: In order to successfully connect Klaviyo to DashThis, you need to be the Owner of the account. Should you need more information on Klaviyo's user roles and permissions, please visit the Klaviyo help center.



Step 1 - Go to DashThis and click on the integrations page

Step 2 - At the top of the list of available integrations, click on ADD + beside Klaviyo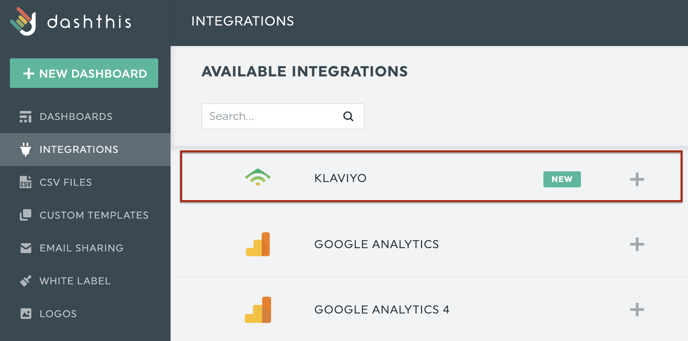 Step 3 - A login box will appear for you to enter your Account Name and Private API Key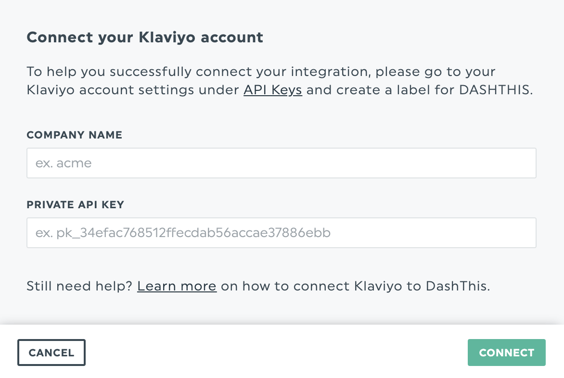 Go to your Klaviyo account settings > API Keys > Copy and paste your Company Name into the DashThis login box:
Your Company Name is the name of your company
Your Private API Key is the key that will be created with your label (see screenshot below)




Last steps:

Create a Private API KEY
Click on the pencil to name your label: DASHTHIS


Click on the eye icon beside your private API Key, copy your key and paste it into DashThis


Now you can create reports with Klaviyo 🙌 Not sure which data to import? No problem! We created a periodic dashboard template to help you. Go to your Dashboard manager, click Create Dashboard, search through the periodic templates, and find Klaviyo Report Template.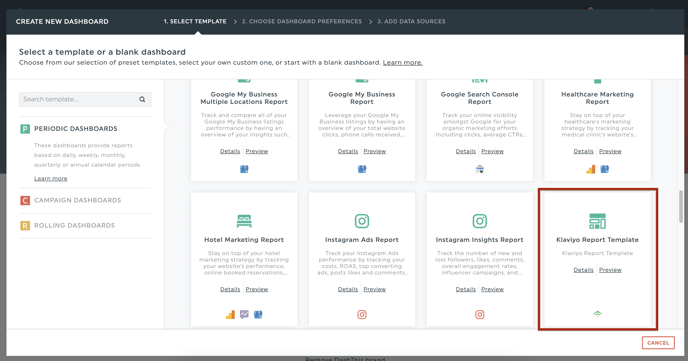 Should you need any assistance with Klaviyo, please reach out to our Support Team 🤘



---

What's next:

Klaviyo metrics and dimensions
Klaviyo notes/limitations