At DashThis, we have three types of date ranges available to help you create the reports you need: according to the standard calendar, with flexible dates, and on an ongoing basis.
1 – Standard calendar
2 – Flexible dates
3 – Ongoing basis
1 – Standard calendar
You can create reports following the standard calendar periods, i.e. daily, weekly, monthly, quarterly, and annually. Here are all the options you have:
Daily
Weekly

Sunday to Saturday
Monday to Sunday
Tuesday to Monday
Wednesday to Tuesday
Thursday to Wednesday
Friday to Thursday
Saturday to Friday

Monthly
Quarterly

Starting in January
Starting in February
Starting in March

Semiannually

Starting in January
Starting in February
Starting in March
Starting in April
Starting in May
Starting in June

Annually

January to December
February to January
March to February
April to March
May to April
June to May
July to June
August to July
September to August
October to September
November to October
December to November
These date ranges allow you to browse through past periods and see your data's history. DashThis keeps a 13-month history in its archives.
You would like a report based on a standard calendar period? Check out our periodic dashboard!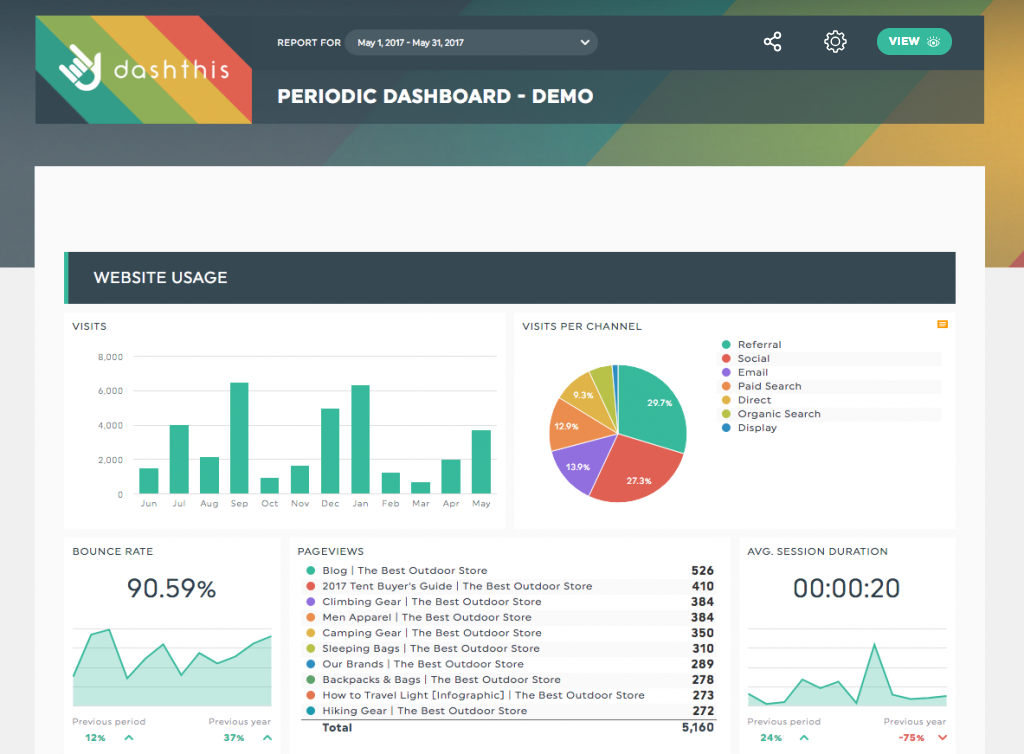 2 – Flexible dates
You need a report for a specific number of days, or for a period that straddles two (or more) months? We have something for you: the campaign dashboard!
This type of dashboard gives you all the flexibility you need. When creating your dashboard, you'll pick the start and end date of your campaign. You can also choose to compare your results to another campaign.
Once the campaign is over, the dashboard will stop importing data. You'll still have access to it, and you'll be able to modify it, but the data will be frozen in time.
Have a look at a more in-depth article on campaign dashboards if you want more info!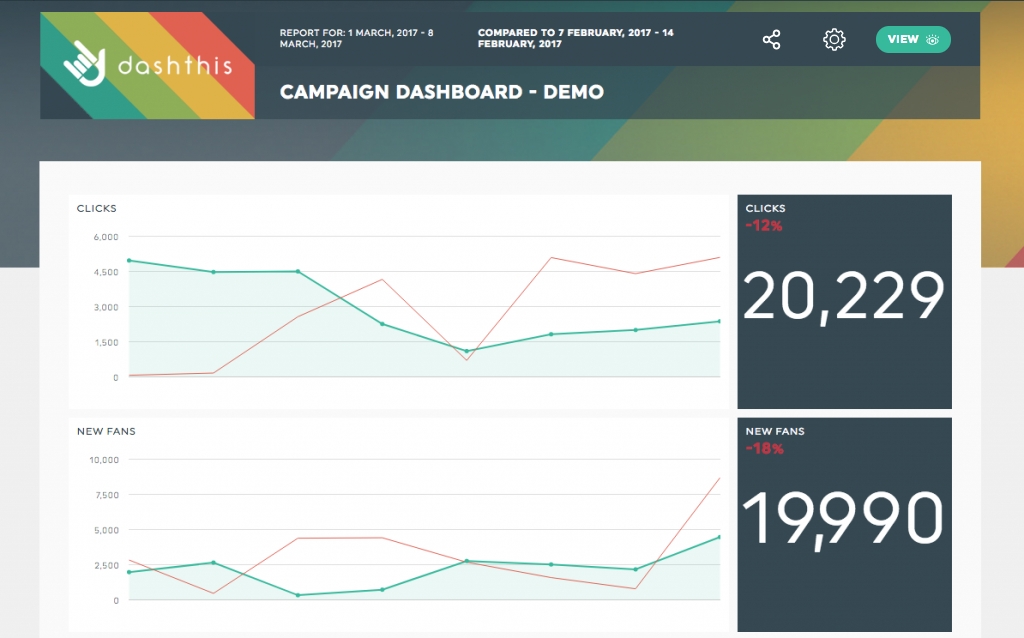 3 – Ongoing basis
Another way of showing the passage of time is on an ongoing basis. This option displays your data over a particular period of time and takes the present day as a starting point. Each period includes three specific time units that are displayed in your widgets so that you can easily follow your data's fluctuations.
5 time periods are available:
Short (Yesterday, last 7 and 15 days)
Medium (Last 7, 15, and 30 days)
Long (Last 7, 30, and 90 days)
Long (Last 30, 90, and 180 days)
Yearly view (Last 30, 180, and 365 days)
This type of data range is only found in our rolling dashboard. Read our article on this type of dashboard for more info!