You want to know what exactly are the two sections in the Security Settings of your account? You're at the right place!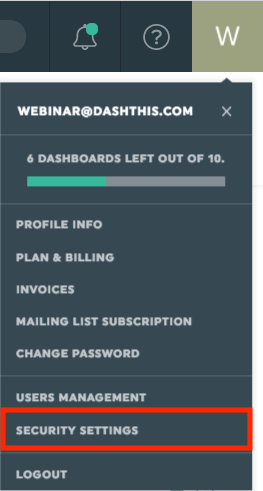 Access Log


The first section in the Security Settings shows the activities that occurred in your account. When you activate this setting, you can monitor every access to all dashboards.
You see the moment a dashboard has been opened, the IP address (and the username, if applicable) of who has opened it as well as if this person has edited the dashboard.



Note: The Access Log will show both the dashboards accessed in Edit mode and in View mode (by your customers).
Manage IP Access


The second section is about restricting access to your dashboards by IP addresses. This is useful if you are on a private network, let's say a bank or a government entity. This way, you are sure nobody outside the authorized IP addresses will have access to any of your reports.
Please note that the IP addresses you add in this section will have access to your dashboards!

Therefore, make sure that you are also enabling IP addresses of people looking at your dashboards in View Mode.



Important: If you have a custom domain set up but your client is getting a 404 page, verify your security settings and make sure that ''manage IP access'' is unchecked.

Have any questions regarding security? Reach out to our Support Team!