CallRail is a well-known call tracking, recording, and analytics system. For some agencies and companies, using CallRail alongside with Google Ads is necessary in order to track the digital performance of brick and mortar stores.

You have two ways to add your CallRail data to your dashboards: link your CallRail data to your Google Analytics account; or use the CSV advanced feature in DashThis to import your CallRail data.


1- Link CallRail and Google Analytics
Integrating your CallRail data into your Google Analytics account can allow you to easily report on standard KPIs without too much manual work. Please refer to CallRail article to see how to connect your two accounts.
Once this is done, you can set up goals for calls and track them as conversions, create advanced segments for "callers," and even use phone calls as a stage in multi-channel conversion funnel. You can also breakdown those goals by country, city, source, or landing page to get a more precise view of the demographics and the behaviour of your callers. Read this CallRail article to explore all possibilities.
All those insights can be replicated in your DashThis dashboards:
First, you need to connect your Google Analytics account in DashThis. Please read this article to see how to do this.
Once done, create a dashboard with a Google Analytics data source.
To create a widget containing CallRail data, open the Custom Widgets panel and use the goals metrics by choosing the right goal number corresponding to the goal index in your Google Analytics account.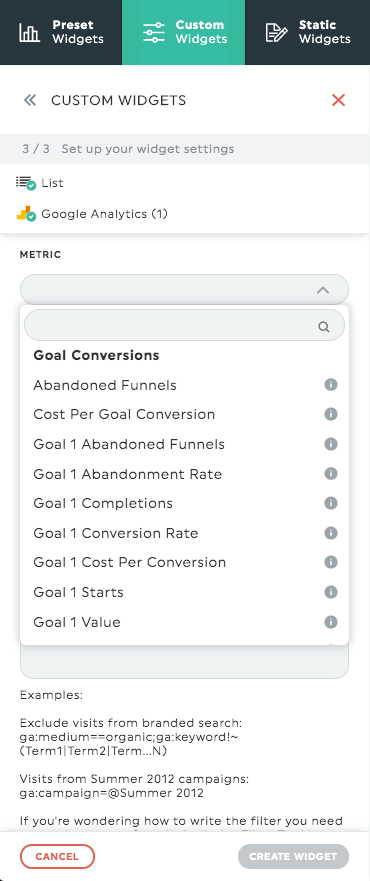 2- Import CallRail data with the CSV feature
If the CallRail <> Google Analytics integration is sufficient for you and you need to show more advanced KPIs in your DashThis reports, we then recommend you to use the CSV file advanced feature.
This feature allows to import your CallRail data into DashThis and create a CSV Template based on your file. This feature is very useful since it allows you to consider your CallRail CSV data as a fully working data source, and create KPIs as you would do with any integration natively available in DashThis.
Go into your CallRail account and choose the report you want to export.
Export your CallRail data and convert the file in a CSV format.
Set up your CSV Template for your CallRail data and create your custom KPIs.