CallRail is a well-known marketing tool that focuses its analytics on call tracking & recording. For some companies, using CallRail alongside Google Ads is necessary in order to track the digital performance of brick-and-mortar stores.
You can easily track all your business's calls with our CallRail integration. Here's how to do it:
1 – Connect your account
In the Integration Manager of DashThis, choose the CallRail integration, and click on Add.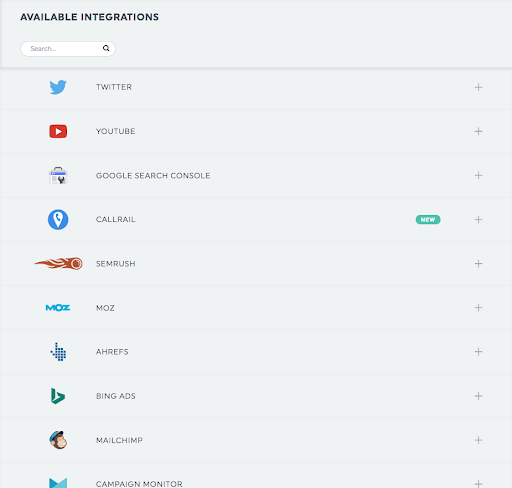 A window containing 2 fields appears on the right-hand side of the screen.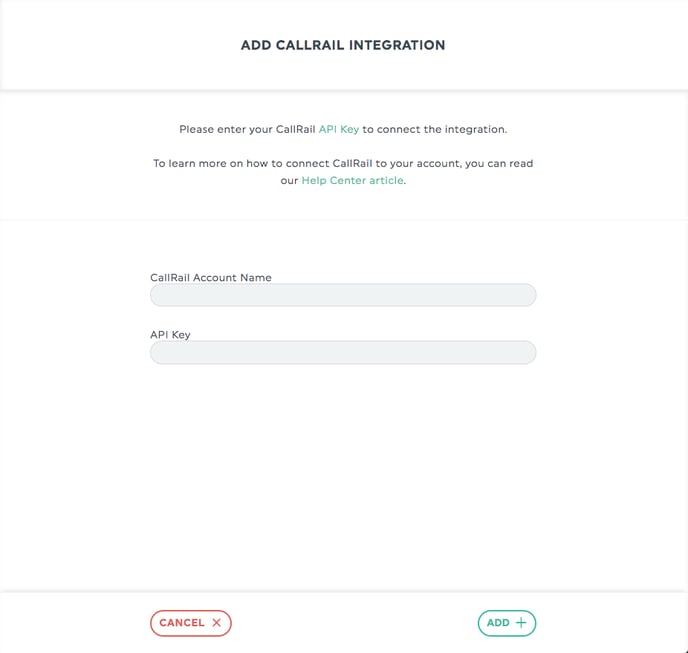 In order to connect your CallRail account to DashThis, you first need to get your API Key. This will be found directly in your CallRail account. Here's how to proceed.
You can access the CallRail API section by clicking on "API key" in the DashThis window.
You will get redirected to your CallRail account.
Otherwise, while being in your CallRail account, click on "My Profile" in the CallRail navigation menu, and then click on "API Keys".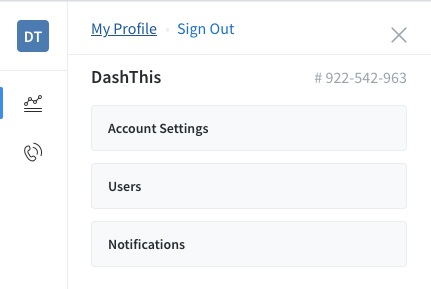 All your previously created API keys will be hidden for security reasons.
You need to create a new API key by clicking on "Create New API Key" on the up-right corner.
Your new Key will appear; copy your API key.
Back in DashThis window, in the account name box, write the name you want to give to your CallRail account. This is how your source will be called in our system.
Enter the API key you got from CallRail in the previous step.
Click on Add.
CallRail is now connected to your DashThis account! You can now create a dashboard that includes the CallRail integration.

2 – KPIs, metrics, and dimensions
The following KPIs are available from the Preset Widgets drop-down menu:
| | |
| --- | --- |
| Name | Description |
| Total Calls | The total number of inbound and outbound calls associated with your company. |
| Unique Callers | The number of unique people who have made a call to your company. |
| Qualified Calls | The total number of incoming calls that have been scored as qualified leads. |
| Average Duration | The average amount of time spent on answered calls, whether inbound or outbound. |
| Call Attribution by Source | This is a list of the top sources bringing calls the most to your company during the selected period. |
| Top countries | This is a list of the top countries sending the biggest number of calls to your company. |
| Call Log | This is a log of all the inbound and outbound calls registered in your company for the selected period, along with the tracking number called, the name and number of the caller, a link to the recording of the call, and the call duration. |
| Top Tracking Numbers | This is a list of the most performing tracking numbers in your company during the selected period. This multi-column list widgets shows the total number of calls, the number of unique callers, and the avg. call duration for each tracking number. |
| Best Performing Companies | This is a list of the most called companies during the selected period. This multi-column list widget shows the total number of calls, the number of answered calls, the number of calls that were qualified as leads, and the avg. call duration for each company in your account. |
These are the available metrics and dimensions:
Metrics:
| | |
| --- | --- |
| Name | Description |
| Total Calls | The total number of inbound and outbound calls associated with your company. |
| Unique Callers | The number of unique people who have made a call to your company. |
| Qualified Calls | The total number of incoming calls that have been scored as qualified leads. |
| Answered Calls | The number of calls answered by a person or an automated system in which the customer didn't leave a voicemail. |
| Missed Calls | The number of calls left unanswered, or for which CallRail automatically detected a voicemail. |
| Average Duration | The average amount of time spent on answered calls, whether inbound or outbound. |
Dimensions:
| | |
| --- | --- |
| Name | Description |
| Call Log | The unique call, along with the date, the tracking number of your company, the caller name and number, and a link to the recording of the call. |
| Tracking Number | The tracking number used by the caller to reach your business, along with its name. |
| Source | The marketing sources that brought calls to your business. |
| City | The city in which the callers live. |
| Country | The country in which the callers live. |
| Tag | The label of the tag applied on each call. |
| Company | The company receiving the calls. |
Filters:
Tracking Number Name
Tracking Number*
Source
Tag
* You can filter by tracking number in 2 ways, you can either enter the phone number with the international indicator (+14181234567) or without (418-123-4567)