Whether you are a small business or a big one, HubSpot's marketing hub supplies you with the necessary tools and features to track your email marketing performances, forms, landing pages, marketing automation, and more.
Important: Please note that this is a beta version of this integration which means that it is incomplete however, you can still connect your account and validate data accuracy.
1 - Integrate HubSpot into DashThis


Permissions: In order to connect HubSpot successfully to DashThis, you need to have a Super Admin role. Should you need more information about users and permissions, please go to HubSpot's help center.
Step 1 - Go to DashThis and click on the integrations page
Step 2 - At the top of the list of available integrations, click on ADD + beside HubSpot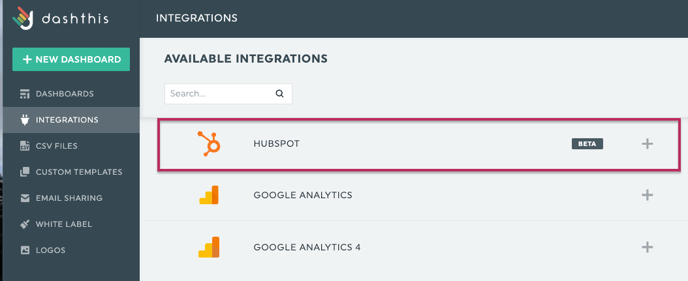 Step 3 - Login to your HubSpot account. Please note that if your browser is already logged in, you may be automatically redirected to adding the HubSpot account to DashThis - this is normal.


Step 4 - Choose the account you want to add to DashThis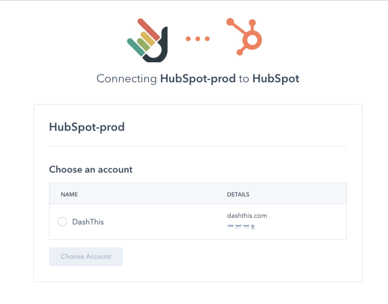 Step 5 - Connect the app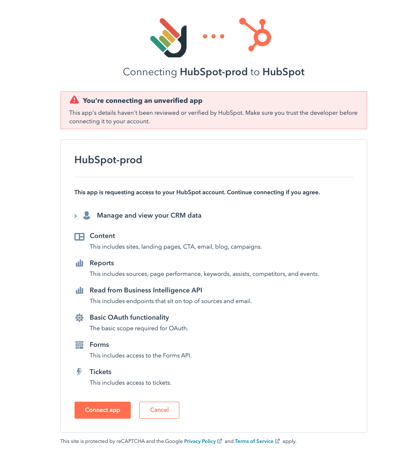 2 - List of metrics and dimensions
| | | |
| --- | --- | --- |
| Metric Name | Description | Calculations (if applicable) |
| Clicked Email | The number of times a user clicked on the email. | |
| Delivered Email | The number of times an email was delivered to an inbox. | |
| Open Rate | The rate at which your customers open your emails. | Open emails/Number of recipients |
| Opened Email | The number of Email Opened for a campaign. | |
| Sent Email | The number of emails sent for a campaign. | |
| Companies | The number of companies in your CRM Hubspot for your brand. | |
| Contacts | The number of contacts in your CRM Hubspot | |
| Pageviews | The number of pageviews for a landing page using the HubSpot tracking script. | |
| | |
| --- | --- |
| Dimension Name | Description |
| Campaign | The name of an email campaign. |
| Source | The source to provide channel provenance for your marketing efforts. |
3 - Notes/Limitations
Preset templates are not yet available
Preset widgets are not yet available
Filters are not yet available
More metrics will be added in the official launch


Should you need any assistance with HubSpot or would like to request more metrics and dimensions, please reach out to our Support Team🤘