You've created the perfect dashboard, and you would like to replicate it? We know you have other things to do, so don't start from scratch all over again. Just clone it!
When you clone a dashboard, the clone will be exactly the same as the original: same widgets in the same place, same title, same logo, etc. Obviously, you'll be able to change these whenever you want, just like any other dashboard.
The cloning process is pretty easy.
1- In the Dashboard Manager, locate the dashboard you want to clone.
2- Click on the menu icon, located at the right side of the dashboard name, and select Clone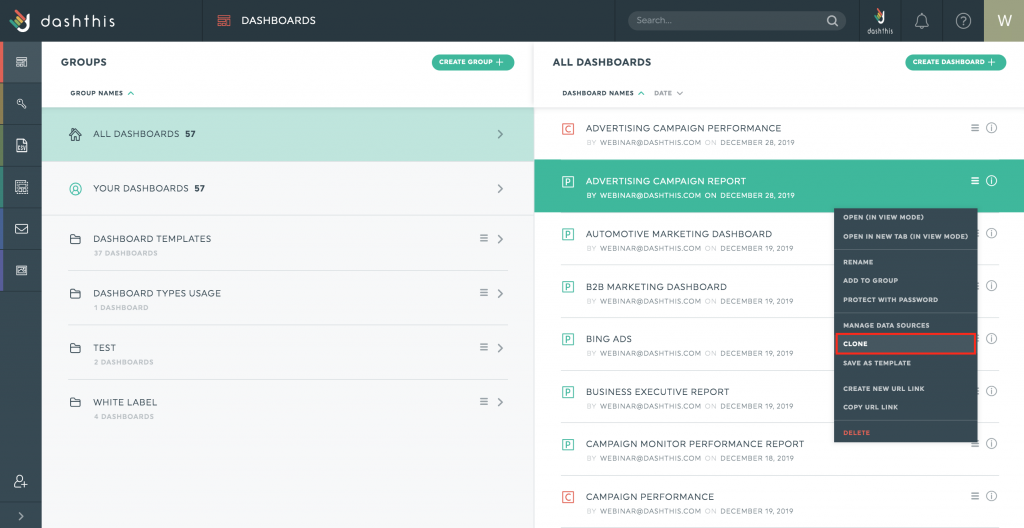 3- Choose the data sources for your new dashboard. To replace the data source(s), simply click on "Replace current source" and select the one to connect instead. You can also choose to keep the same data source(s) by simply going to the next step.


4- Indicate the preferences of your dashboard (name, time period, language-currency) and add a password if you want to.


That's it, you're done!
Important:
Comment boxes will not clone the text into your new dashboard.
If you have a custom colour theme, you will need to re-apply it to your new dashboard.
If you find yourself cloning your dashboards regularly, this is probably because you are using the same dashboard frame for all your clients. In this case, we recommend you use the Custom Dashboard template feature and save your own templates. Read our article on how to create your own custom template.
Need assistance with cloning? Please reach out to our Support Team.