Adform provides you with a digital advertising solution that unlocks your online potential.
Their platform is simple and includes campaign planning, ad serving, optimization, analytics, reports, and much more. Among other things, they have an API that makes it easy to integrate into existing systems and reporting infrastructure.




Connect your account
1.1 – In AdForm
1.2 – In DashThis
1- Connect your account
1.1 – In AdForm
Starting October 31st, 2016, the "old" AdForm API was deprecated in favor of their new "Reporting Stats API".
In order to authorize DashThis to fetch the data from the new API, it is necessary to tick one checkbox, in the User Management section of your AdForm account: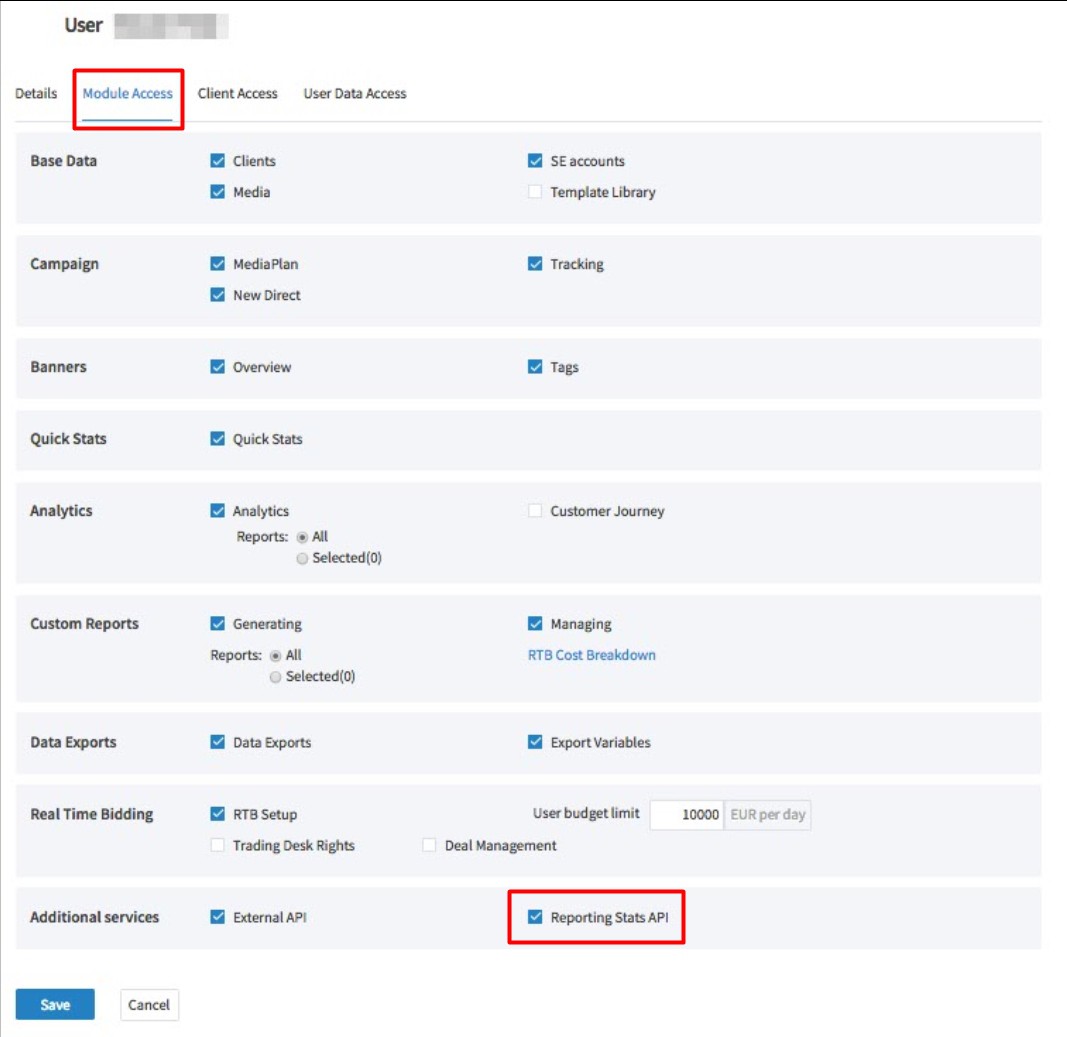 Before using Adform, you need to unlock the API. To do so, you have to send an email to their customer service so that they can grant you access to their API.
They also specify particular requirements for the password used to access the API. The requirements include:
at least 8 characters long
at least one lowercase character
at least one uppercase character
at least one number character
at least one special character
1.2 – In DashThis
Once AdForm support has unlocked your API, you can add your AdForm account into DashThis. Two quick steps are necessary:
– In the Integration Manager, choose Adform and click on Add.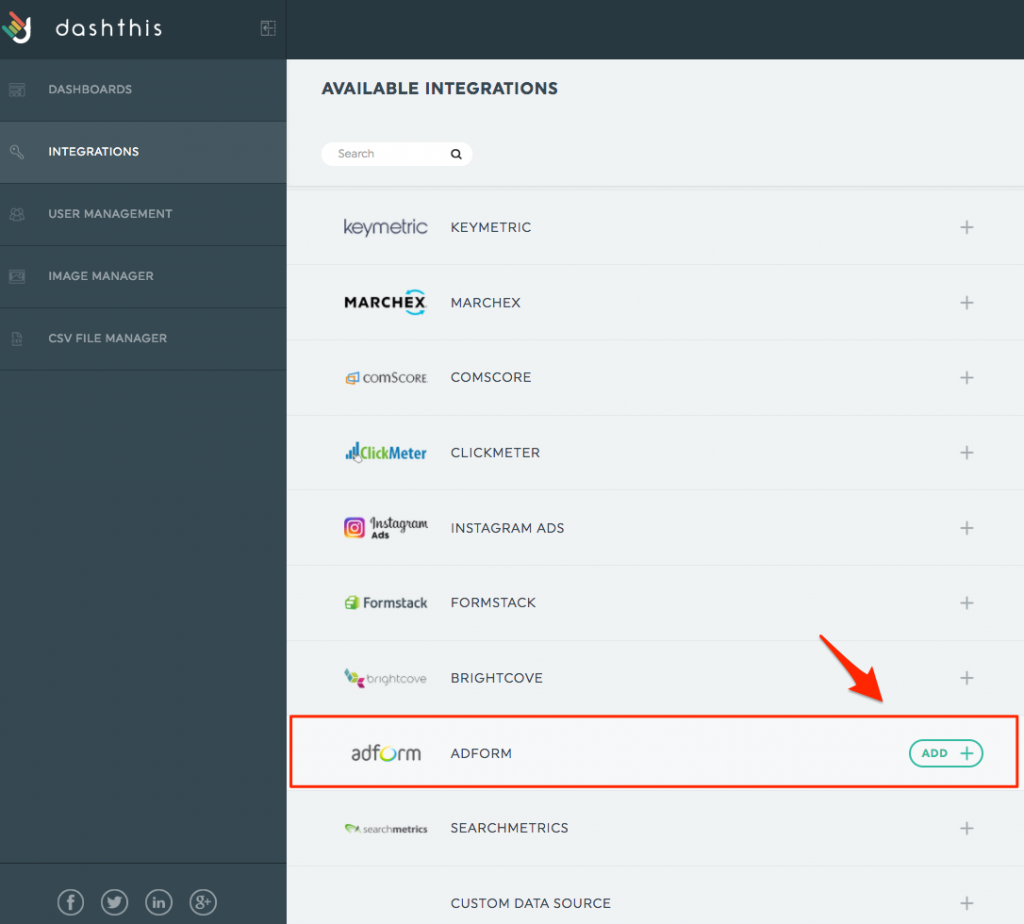 Enter the pieces of information of your AdForm account and click on Add.

Your account now appears under the section Integrations in use.
You're good to go!
2- KPIs, metrics, and dimensions
The following KPIs are available from the Preset widgets drop-down menu:
Top Campaign by Impressions
Top Campaigns by Clicks
Total Clicks
Total Click-Through-Rate
Total Cost Per Click
Total Cost Per Thousand Impressions
Total impressions
Total Leads
Total Media Cost
Total Unique Clicks
Total Unique Impressions
The available metrics and dimensions are:
Metrics:
Ad Cost
Ad Impressions
Ads Clicks
Click-Through-Rate (CTR)
Conversion Rate (Leads/Clicks)
Cost Per Click (CPC)
Cost Per Thousand Impressions (CPM)
Unique Clicks
View Impressions
View CTR
View CPM
Sales
ROI
ROAS
All Conversions Post Click
Conversions Type 1 Post Click
Conversions Type 2 Post Click
Conversions Type 3 Post Click
All Conversions Rate Post Click
Conversion Rate Type 1 Post Click
Conversion Rate Type 2 Post Click
Conversion Rate Type 3 Post Click
All CPA Post Click
CPA Type 1 Post Click
CPA Type 2 Post Click
CPA Type 3 Post Click
All Conversions Post Impression
Conversions Type 1 Post Impression
Conversions Type 2 Post Impression
Conversions Type 3 Post Impression
All Conversions Rate Post Impression
Conversion Rate Type 1 Post Impression
Conversion Rate Type 2 Post Impression
Conversion Rate Type 3 Post Impression
All CPA Post Impression
CPA Type 1 Post Impression
CPA Type 2 Post Impression
CPA Type 3 Post Impression
Unique Impressions
Dimensions:
Country
Line Item
Banner
Device Type
Campaign
RTB Domain
Media
Ad Type
Good to know
If you add multiple Adform widgets to your dashboard in one day, you may experience low-performance issues. Don't worry, this is only because Adform's API has a limit of 500 calls per day per account, and another one of 10 calls per minute per account.
This limit can be reached by creating new widgets or editing existing widgets. Therefore, we recommend you create one widget at a time in order for Adform's API to not be overwhelmed and to pull your data in a reasonable amount of time.
Our support team is always there for you if you have any questions!
You're still not a DashThis user? Try our tool for free!