You can now create a DoubleClick Campaign Manager (Campaign manager) dashboard with DashThis!
*Please note that since 2018, google changed the name: DoubleClick Campaign Manager (DCM) for Campaign Manager. Only the name changed, the integration still works the same.
DoubleClick Campaign Manager (DCM) simplifies how campaigns are run, from media planning to reporting. With all your digital marketing efforts on one powerful platform, you can work smarter, act quicker, and get better results. That's why we integrated the DoubleClick Campaign Manager reporting API. It's now easy to create dashboards and reports using your DoubleClick Campaign Manager performance data.
We think DCM & Dashthis go really well together because in one screen you can get the traffic from Google Analytics (GA) as well as data from DCM, which is a good mix because you can easily see the difference between GA's conversions and DCM's conversions (the latter of which includes view-through conversions that you can't see with your GA goals). And obviously, non first-touch analysis sucks when it comes to programmatic reporting.
1 – Connect your account
It's very easy to connect your Campaign Manager account to DashThis. It requires only 2 quick steps:
1- In the Integration Manager, choose DoubleClick Campaign Manager and click on Add.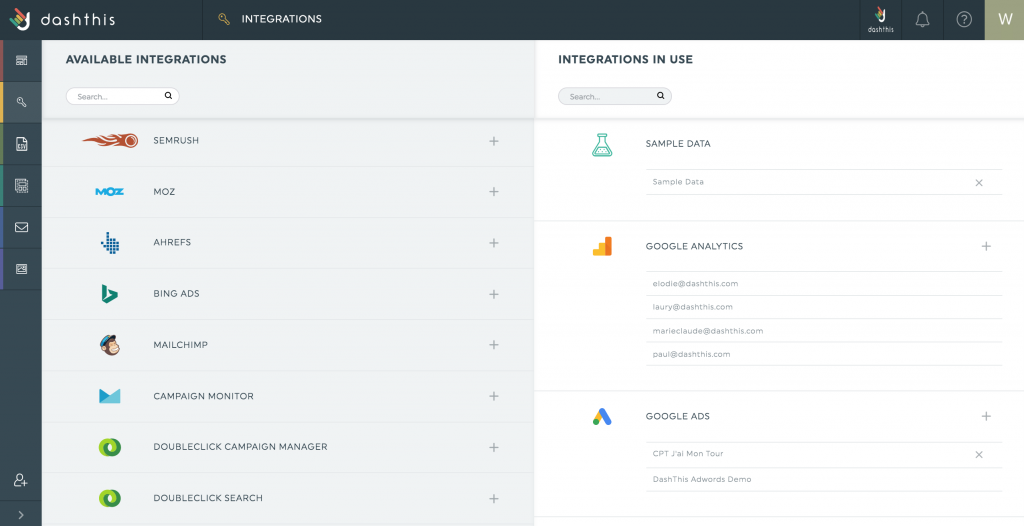 2- You're then redirected to DoubleClick Campaign Manager. Sign in as usual and allow DashThis to access your Campaign Manager data (don't worry – we only use it to generate your dashboards!).
As a sign of success, your account now appears under the section Integrations in use in DashThis!
You're all set and done to create dashboards now!
2 – KPIs, metrics, and dimensions
The following standard KPIs are available from the Preset Widgets drop down menu:
Ad Clicks
Click Rate
Cost per Click (CPC)
Cost per Revenue
Impressions
Total Conversions
Total Conversions Revenue
These are the available metrics and dimensions:
Metrics:
Ad Clicks
Click Rate
Click-Through Conversions
Click-Through Revenue
Cost (Media Cost)
Cost per Click (CPC)
Cost per Conversion (Total Conversions)
Cost per Revenue
Impressions
Total Conversions
Total Conversions Revenue

View-Through Conversions

View-Through Revenue
Dimensions:
Campaign
Click Site
Click Site Placement*
Notes:
* The DoubleClick Campaign Manager API restricts us in the amount of data we can retrieve in a given minute. The Placement dimension usually outputs a high number of values and, as such, can take quite some time to upload into a widget. If this is the case for your dashboard, simply wait a couple of minutes and refresh the dashboard; you should see the Placements appear after a bit!
Our support team is always there for you if you have any questions!
You're still not a DashThis user? Try our tool for free!