Ahrefs is known as the world's largest index of live backlinks, so of course, we have its native integration!
1 -
How to integrate Ahrefs to DashThis
Step 1 - Add the integration
Step 2- Add the sources
2 -
List of metrics and dimensions
3 -
Notes/Limitations
Step 1 – Add the integration to your list of available integrations

One thing to know about Ahrefs API: it only provides data for its Live Index, not for the Fresh Index (index of recently live sites, not re-crawled).
Permissions: No specific permissions are required however, you do need to have a subscription that allows you to use the integration. For more information, please verify your subscription HERE. Depending on the plan you've subscribed to, there are different limits on the number of requests that can be made to the API. Learn more on Ahrefs pricing. For any questions concerning your subscription, please contact an Ahrefs representative directly.


Connecting Ahrefs to DashThis requires 2 quick steps.
1.
Go to the
integrations page
, scroll down to
Ahrefs
and click on
Add +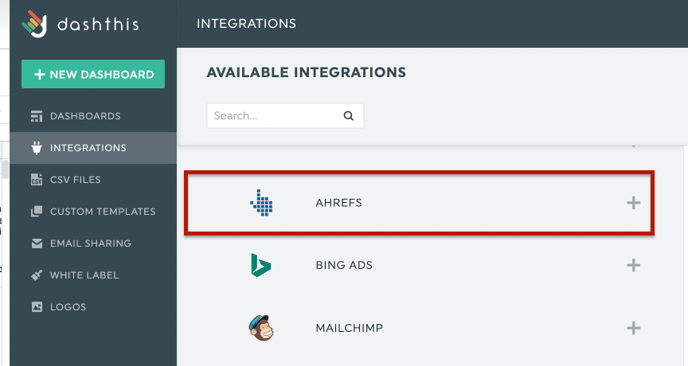 2.
You're then redirected to Ahrefs sign-in page. Sign in as usual - If you are already connected to your account, a pop-up will appear asking if you would like to allow access to DashThis, please click allow


The integration is now added to your DashThis account 🙌 Now that DashThis has access to your data, you have to add your sources manually (Step 2)
Step 2– Add the sources
1.
Under connected integrations (on the right)
find Ahrefs and click on the pencil icon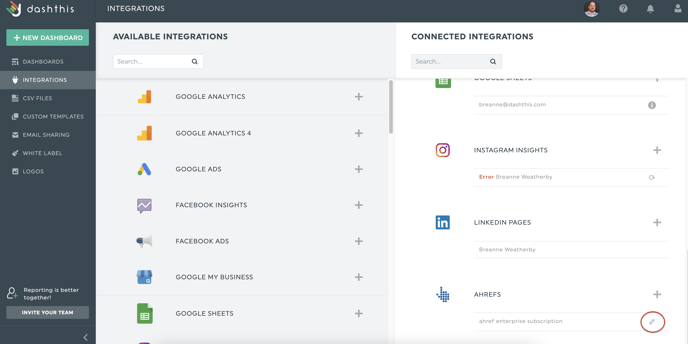 2. You will then be asked to complete the following steps (1, 2, and 3)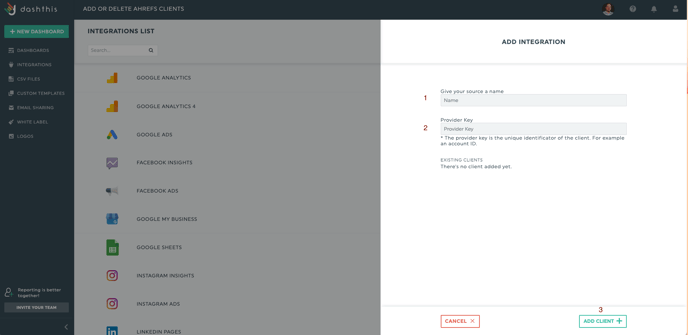 1. Give your source a name: It can be anything you want. This name will be how your client will be designated in our tool.

2. Provider Key: It's the website URL.

3. Add Client
Important: Please note that HTTP and HTTPS sites are tracked separately by Ahrefs. Therefore, you need to add both as sources in DashThis to track them. If you omit the "HTTP" or "HTTPS" of an URL, both results in your source will show in your data (e.g., http://example.com, or http://www.example.com, or https://example.com, or https://www.example.com).
2 – List of metrics and dimensions
| | |
| --- | --- |
| Metric Name | Description |
| Backlinks | The number of external backlinks found that are using the anchor text. |
| Domain Rating | Domain Rating of the target domain. |
| Referring Domains | The referring domain contains at least one link to the target. |
| | |
| --- | --- |
| Dimension Name | Description |
| Anchor Text | Anchor text is used in at least one backlink from the referring domain. |
3 – Notes/Limitations


Unfortunately, Ahrefs' API doesn't provide precise KPIs allowing DashThis to import your keyword ranking data into your reports. We are constantly following the updates made by Ahrefs in order to eventually add those metrics once they are available in the API.
There is no historical data in Ahrefs' API. Don't worry we got your back! We keep your historical data in the system starting at the moment you create any Ahrefs widget, so your number can evolve over time.
Should you need any assistance with Ahrefs, please reach out to our

S

upport Team 🤘