You've created the perfect dashboard for your clients or your boss, which looks great! It's now time to show your results by sharing the report.
Sharing marketing insights with your customers is crucial to both of your success especially when you've both taken the time to establish business goals, campaigns have been created, ads have been placed, and lastly, you've worked really hard on a new strategy to increase website performance - so now what? Well, at DashThis, we encourage you to share your reports with your customers so we've especially tried to make this process as easy and smooth as possible! Learn more about our 3 sharing options: Link, Email, or PDF.
Inside your dashboard to the right of the dashboard period, you have the sharing icon.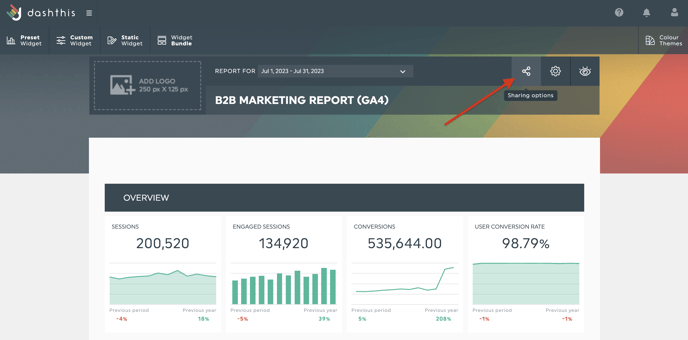 Once you click here, a pop-up will appear and you will see the 3 sharing options available: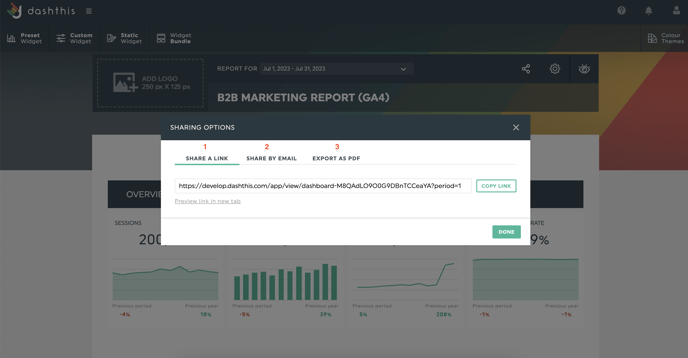 Share a link:

You can easily share the URL link to your dashboard with your customer, colleague, etc. Click on ''copy link'' or double-click the link and right-click to copy (ctrl + c OR ⌘ + c)

Note: You can preview the link by clicking ''Preview'' below the shareable link. This will show you the report shared in VIEW MODE only. Shared reports cannot be edited in any way by someone who is only viewing the report.

The standard dashboard URL link contains a dashthis.com domain name. If you want, you can have your own URL as we offer a customized white label solution, so your dashboard URL can be branded to your company for example reports.yourcompany.com. More on our website about White Label Options


Shareable links can also be found on the dashboard manager page. Either share directly from the dashboard options to the right (1st screenshot) OR share your whole dashboard group via the group settings (2nd screenshot)






Sharing a group will look like this in the dashboard:




Learn more about grouping here




Share by email + automation:


Share a report by sending it directly via email!

Choose your dashboard period
The ''From'' email by default is notifications@dashthis.com - You can change this by setting up a custom domain. More on this here.
The ''To'' is the email address you want to send the email. You can enter more than one email address here, simply enter 1 email press enter, and enter the additional email(s).
The Frequency in the sharing options is literally the icing on the cake for this feature because this is what allows you to either send the email once OR to schedule an automatic email dispatch at the frequency that you want so you don't have to worry about it!
Lastly, you can add a note to customize the content of your email and even include a PDF of your dashboard. Note that when the customer receives the email, they will have a clickable link that will open up in a window so sometimes it may be less of a hassle if you just include the PDF right away.
Click send

Here is an example of what the email will look like:




Should you wish to update, add, or remove an email address you can manage this under the email-sharing settings or click here









Should you need any assistance with sharing a dashboard report, please reach out to our Support Team 🤘