How to filter my Google Ads data by a certain Conversion Name?
Being able to show your Google Ads results for only a specific type of conversion can be very useful in a report.
Unfortunately, due to Google Ads' API limitations, the "Conversion Name" and "Conversion Category Name" filters in the Google Ads integration are not compatible with all metrics.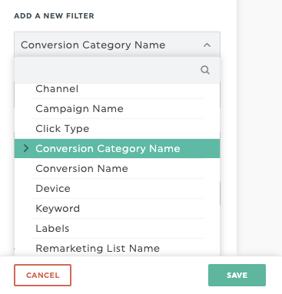 Here are the metrics which those two filters can be used with.
All Conversions
Conversions
Cross-Device Conversions
View-Through Conversions
All Conversion Value
Conversion Value
Avg. Conversion Value (All Conv.)
Avg. Conversion Value (Conv.)
Conversion Rate
All Conversion Rate
Daily Budget