By using the CSV import feature in DashThis, you can easily add your Twitter Ads data into your dashboards with minimum manual work.
At this time, DashThis does not provide a direct integration for Twitter Ads data but if there is a will, there is a way! You can export your data directly from Twitter Ads easily and import it into DashThis by using our CSV tool.
If you've never used the CSV import feature in DashThis, we recommend you to read this article to learn the basics.


1- Download your Twitter Ads data
3- Import your CSV data into DashThis
How to add Twitter Ads CSV to a new dashboard:


1- Download your Twitter Ads data
Go to your Twitter Ads account.
At the top right-hand corner, select the time period you want to export




Click on export





When exporting your data, leave the "Total" under breakdown selected then click on download.



Here's an example of the file you should end up with.



Open your download in a Google Sheet or Excel to edit your file. Make sure there are no empty cells that should be filled in.

2- Get your CSV file ready to use in DashThis
Insert a new row on top of your file and enter your Customer ID.
The Customer ID is used to identify the right data to display in your dashboard among all of your other CSV files. This is equivalent to the source name in native integrations.


Download your Google Sheet file or Excel as a CSV file on your computer.


Note: Your file now contains all the required information to display the data of each of your Twitter Ads campaigns. If you want to display the accurate aggregated data for all your campaigns (especially for the % KPIs), go to this section.
3- Import your CSV data into DashThis
Go to your CSV Files Manager and select the new Twitter Ads template.
Upload your CSV file in the Twitters Ads Preset template



At this stage, if there are any errors during the upload, the error will be displayed right away so you can correct it but should you need help to identify the source of the error, please read our CSV Help Center article.


Once the CSV is uploaded you can create a new dashboard in order to add your Twitter CSV data.

Select the CSV integration in the list.

Select the Twitter Ads CSV Template.




If you do not already have a Twitters Ads source, click on "Add it now" to add your Twitter Ads CSV data.
4. Identify your CSV data source by giving it a name (i.e. Client ABC), and
entering the exact same Customer ID
you wrote earlier in your file to filter the right data.
The Customer ID field is case-sensitive.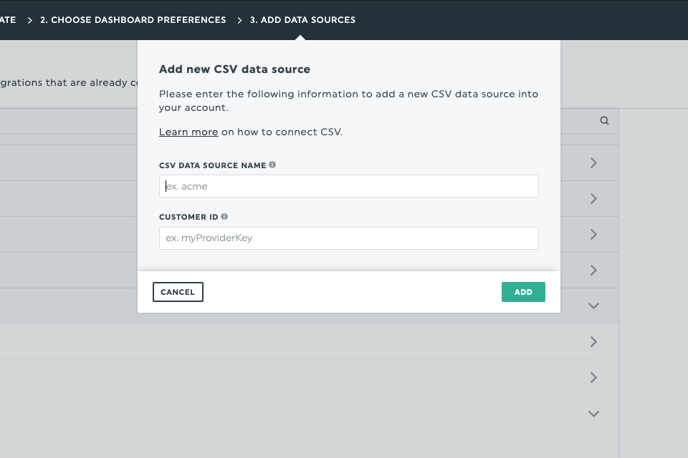 4- Create widgets with your Twitter Ads CSV data
In your new dashboard, create as many widgets as you need. It's normal that you will see the results at 0 or no data.
Go back to the CSV Files Manager; select the Twitter Ads CSV template; and click on "Resend" to push the data in your widgets.



** Note that if you add a new widget, you'll have to hit Resend again **
5- Display the aggregated data of your Twitter Ads campaigns
Go back to your Google Sheets file. Here's an example of the file you should end up with.
Add a Total line in your file with the same time period.


Under your dimensions columns, write TOTAL (i.e. placement, campaign name, objective, etc.).
This will allow you to filter out the data when creating your widget in order to just display the aggregated data.
Under your metrics columns, make your calculations in order to display accurate data (i.e. Total for the Impressions metric would be a Sum; Total for the Result Rate metric would be Total Results divided by Total Impressions; etc.)

Follow the next steps.
When creating a widget for an aggregated value (i.e. Result Rate), you must filter out your data to only show what is on the Total line.


If you need any help with one of those steps, you can contact us.