If you are using different channels to push your digital marketing strategies, there are a lot of chances that you want to show reports that include all those channels, and that sometimes even combine the data coming from those channels.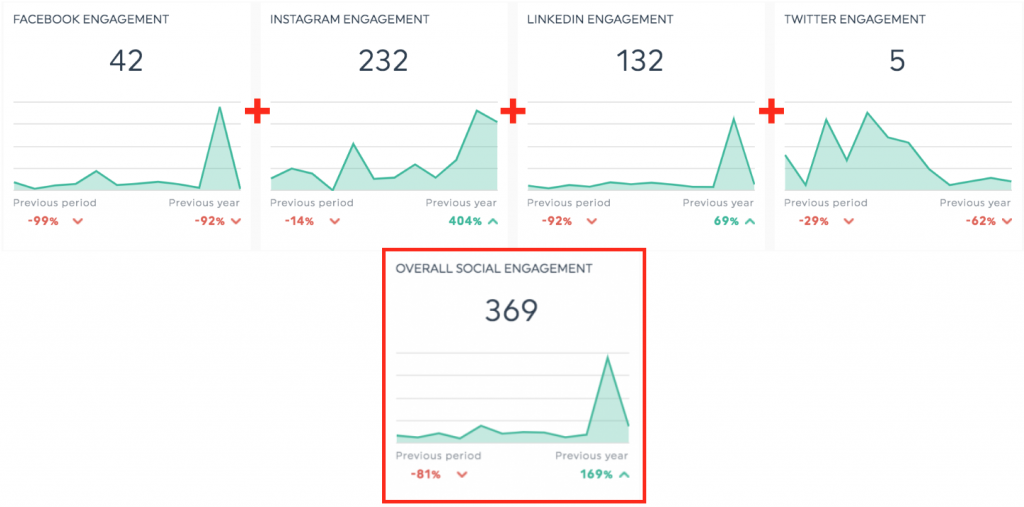 In order to get to this, you can "merge widgets" in your DashThis dashboards. This function allows you to combine all sorts of data as long as the KPIs are compatible.
1- Why using the "Merge" function
There are three scenarios that the Merge function could be used for:
Combine data coming from different integrations (ex. Cost from Google Ads + Cost from Bing Ads)
Combine data coming from the same integration but different data sources (ex. Google Ads Cost for Client A + Google Ads Cost for Client B)
Combine similar but not exactly the same data (ex. Google Ads Conversions + Google Ads Purchases)
In all cases, the way to use the "Merge" function is always the same.
2- How to use the "Merge" function
First, it is important to note that this feature is only available for compatible KPIs. This means that, to be mergeable, the widgets must contain similar metrics (ex. Google Ads "Cost" and Facebook Ads "Amount Spent"; Facebook "Fans" and Instagram "Followers", etc.).
While being in your dashboard, hover over one of the widgets you want to combine and click on "Edit Widget"
Click on the "Merge Widgets" section
A drop-down menu will appear if there are compatible KPIs with which to merge your selected widget.
Select the right KPI you want to merge this widget with and click on "Save" to apply your changes.
This will result on only one widget out of the two you selected.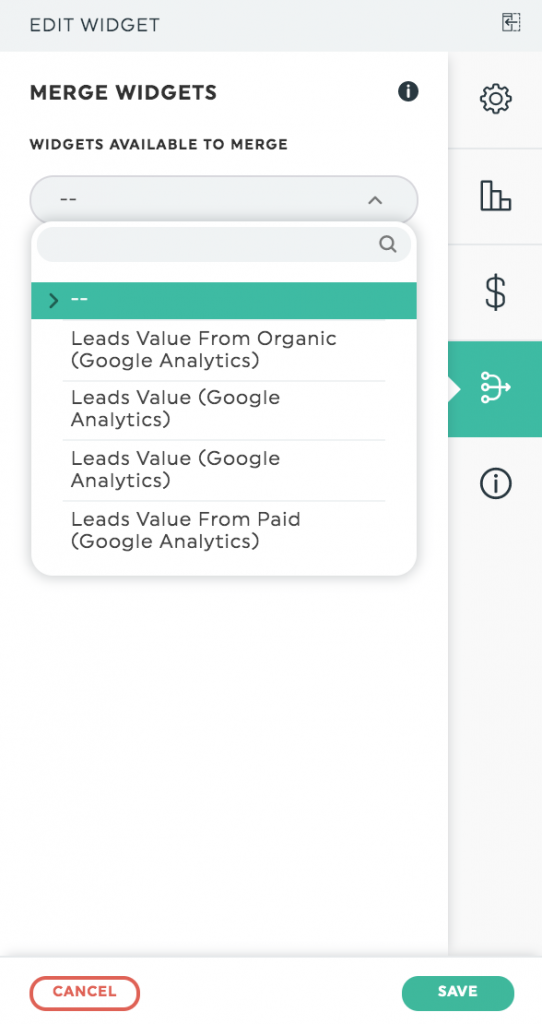 3- Notes
If you want to merge more than two widgets, this is possible. You simply need to merge two widgets once at a time. So if you want to merge four widgets, you will need to make three actions. Also, if you have to merge multiple widgets, on the subsequent merges, you have to ensure that you always start from the "un-merged" widget.
In order to be merged, the widgets need to use the same graph type (i.e. Simple number, Historic, List, etc.).
A merge cannot be undone. If you want to keep the original widgets while merging, you will need to create two identical widgets to keep one of them, and merge the second one.
Custom calculations and formulas are not available in DashThis yet.