You've created a widget, but you would like to edit it, or add more information to it? The Edit Widget panel is where the magic happens!
When you're in the Edit Mode of your dashboard, hover your mouse pointer over the widget you want to edit and click on the "Edit widget" icon, in the top right-hand corner of the widget. The Edit Widget panel will appear on the right-hand side of the screen.
Your widget editing options are organized into five categories within the panel.
1- Basic Settings
This section consists of the essential parameters of your widget, such as its title, metrics, dimensions, and filters.
The metric determines what data will be measured.
The dimension is a characteristic of your data, such as the country, the campaign, or the traffic sources.
For some integrations, you can also use one or more filters if you want to isolate even more data.
2- Data Display
These are all the options relating to your widget's appearance and the way in which your data is presented. These options differ depending on the type of widget you are editing (ex. Historic, Pie, Multi-Column List, etc.).
Graph type: For some widgets, you can choose the type of visual graph displayed in your widget, whether you prefer a line or a an area, a pie or a doughnut for example.
Display Preferences: This is where you can customize the information included in your widgets.
– For Trends and Historical widgets, you'll be able to choose the number of axes, as well as to set the axes values. If your chosen metrics have vastly different maximum values, having two distinct axes could help you compare the trends of the metrics more accurately. If you set this to "Auto", the system will decide the number of axes depending on the disparity between the maximum values.
– For Gauge widgets, you can set the boundary values for your goals.
– For List and Multi-Column List widgets, you can choose to include fluctuation columns, set their numeric format whether you want it in percentage or in absolute values, and choose the compared value between the previous period and the previous year.
You can also add a Total line to your widget and even reorder the results by alphabetical order.
3- Markup Options
If you are used to charge a certain markup to your clients for creating and managing their campaigns, this is where you can reflect this markup in your widgets, so that your clients see the actual cost of their digital strategies.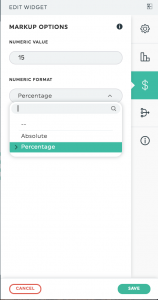 This option is only available on widgets using "Cost" metrics, and can be applied as a percentage or an absolute value.
4- Merge Widgets
Merging widgets allows you to combine widgets containing data from different integrations into one single widget containing all the data. You can only merge widgets with similar metrics (both ad costs, for example), and once you have done so, the merge cannot be undone.
Merging two widgets will result in only one widget remaining in your dashboard.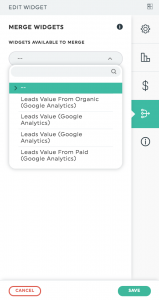 5- Widget Info
This section provides you with information about what is contained in your widget:
• Data source(s)
• Metric(s)
• Dimension
• Filter(s)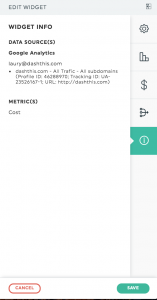 If your widget contains data from different data sources and/or with many metrics, you can refer to this section to refresh your memory and be sure you're editing the right one!
Once you've made all the desired changes in your widget, just click on "Save" to apply them definitely in your widget. This one will refresh itself if necessary.
When clicking on "Cancel", all the changes you haven't saved yet will be lost.