How to connect with ClickMeter
ClickMeter is a marketing management system used to track views, clicks, and conversions from your campaigns around the web.

Integrate ClickMeter into DashThis
Permissions: To successfully connect ClickMeter to DashThis, you need to be a user in the master account. For sub-account users, you need to have edit permissions. Should you need more information about users and permissions, please go to the ClickMeter help center.
Step 1 - Go to DashThis and click on the integrations page

Step 2 - Scroll down the list of available integrations and click on ADD + beside ClickMeter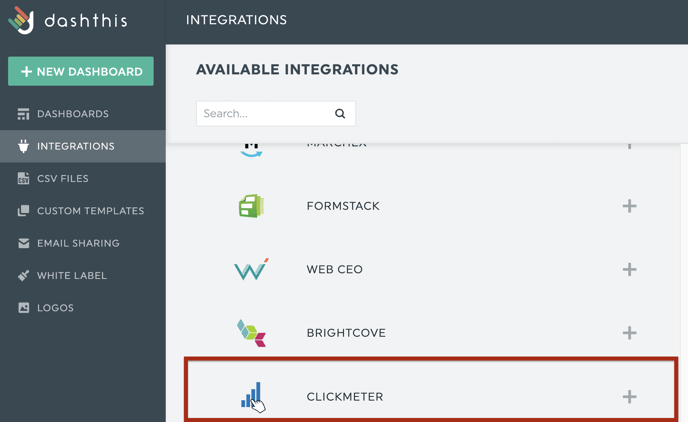 Step 3 - A pop-up will appear for you to enter your ClickMeter account name and API key
Account name: Enter the name you want to use to identify this account
API key

: You will find your API key in your ClickMeter account:

http://my.clickmeter.com/api-key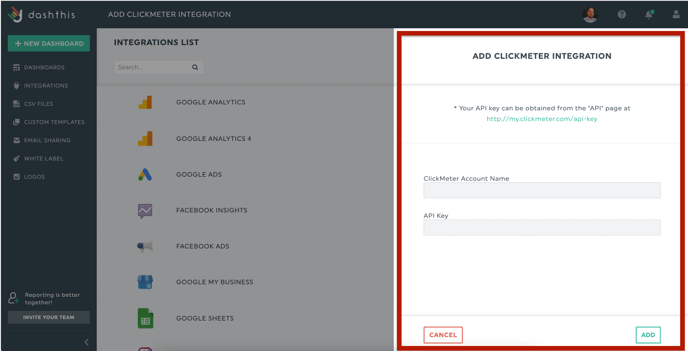 Step 4 - Click on Add and you're done!
Should you need any assistance with ClickMeter, please reach out to our Support Team 🤘
---

What's next:

Clickmeter metrics and dimensions