ClickMeter is a marketing management system used to track views, clicks, and conversions from your campaigns around the web.
1 -
How to integrate ClickMeter to DashThis
2 -
List of metrics and dimensions


1 – Integrate ClickMeter to DashThis
Permissions: To successfully connect ClickMeter to DashThis, you need to be a user in the master account. For sub-account users, you need to have edit permissions. Should you need more information about users and permissions, please go to the ClickMeter help center.
How to connect ClickMeter to DashThis:

Step 1 - Go to DashThis and click on the integrations page

Step 2 - Scroll down the list of available integrations and click on ADD + beside ClickMeter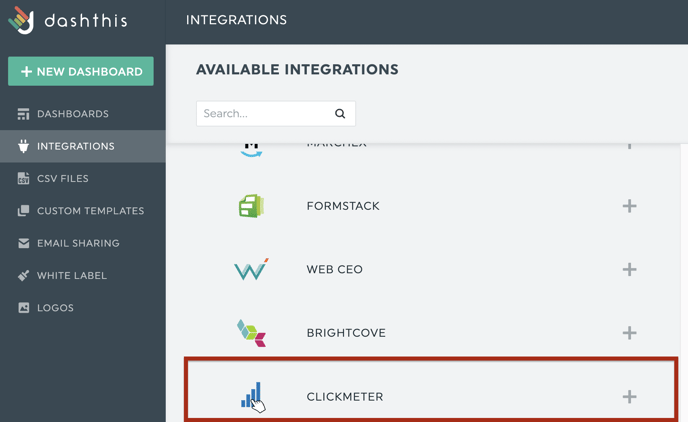 Step 3 - A pop-up will appear for you to enter your ClickMeter account name and API key
Account name: Enter the name you want to use to identify this account
API key

: You will find your API key in your ClickMeter account:

http://my.clickmeter.com/api-key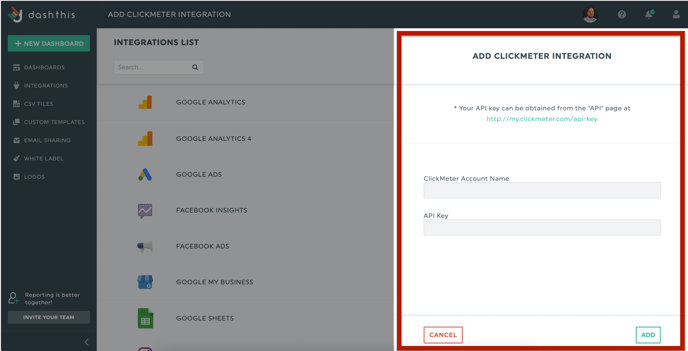 Step 4 - Click on Add and you're done!
2 – List of metrics and dimensions


| | |
| --- | --- |
| Metric Name | Description |
| Ad Clicks | The total number of clicks on your ad |
| Conversion Rate (Lead/Clicks) | The percentage of clicks on your ad that led to a conversion. It is calculated by dividing the number of conversions by the number of clicks and multiplying the result by 100. |
| Conversion Value | The total dollar value is associated with all conversions and is calculated by multiplying the value per conversion by the total number of conversions. The value per conversion is determined by you when you define your conversion; this is the dollar amount that you consider each conversion is worth to you. |
| Goal Completions Total (Conversions) | The total number of times people took the desired action after seeing your ad. This action can be anything from buying a product or service, to signing up for a newsletter. |
Dimensions:
There are no dimensions available at this time.
Should you need any assistance with ClickMeter or would like to submit a request for metrics/dimensions, please reach out to our

S

upport Team 🤘