How to connect with Twitter
Integrate Twitter into DashThis


Permissions: You do not need to have a business account to connect your Twitter to DashThis and no other specific permissions are required.
Step 1 - Go to DashThis and click on the integrations page
Step 2 - Scroll down the list of available integrations and click on ADD + beside Twitter

Step 3 - You're then redirected to Twitter where you will sign in as usual and allow DashThis to access your data (don't worry – we only use it to generate your dashboards!)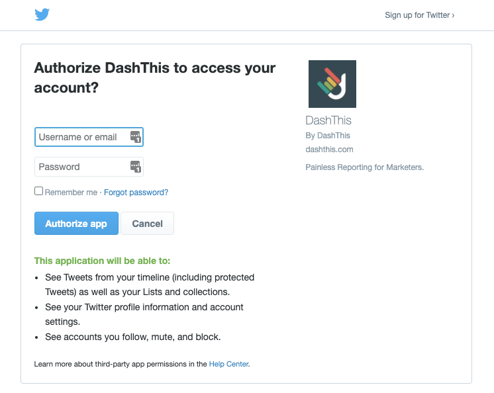 Should you need any assistance with Twitter, please reach out to our Support Team 🤘



---

What's next:

Twitter metrics and dimensions
Twitter notes/limitations
How to create a KPI to get Twitter impressions for a hashtag?